Bounty Hunter Lone Star Reviews, Price and Specifications
All-Purpose Land Metal Detector
Retail Price: $219.95
Number of Reviews: 1
Avg. Rating (3.0 Stars)

Email to a friend.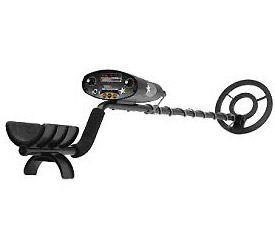 Specifications:
Coin Depth Detection: 8"
Large Object Detection: 3 feet
Low Battery Indicator
Tone Target Discrimination: 3 Tone
Digital Target Identification
Number of Target Segments: 5
Auto Notch System
Ground Balance System: Auto
Coil Size and Type: 8" Open
3 modes of operation: all-metal, discrimination, auto-notch
Touchpad selection
3-Tone audio discrimination
5-segment target identification
3-Level iron discrimination
Auto-notch
Hanphone jack with 1/4" plug
Waterproof 8 inch coil
Requires Two 9-volt Alkaline batteries
5-Year Limited Warranty
Lone Star Is for Semi-Serious Beginner
AtomixMan in Eastport,Merryland -

Good lower cost detector. I have found quite a bit of clad. I have found a silver ring and necklace charm. As for gold, I am still testing... With nickels - it's tricky - most of the time it's worthless junk, no way to know, unless you dig. 2 nine-volt batteries last a day. I ran into an experienced guy, and he told me a setting to use. With a new setting, I have found the most clad to date. I would recommend this for a semi-serious beginner.
Oct 21, 2009
23 people found AtomixMan's review helpful.