Makro Coin Finder CF77 Reviews, Price and Specifications
All-Terrain Land Metal Detector
Retail Price: $1,400 (€1040.00)
Number of Reviews: 1
Avg. Rating (4.0 Stars)

Email to a friend.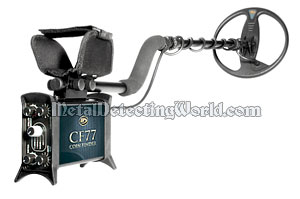 Specifications:
Operation System: VLF
Search Coil: Double D
Operation Frequency: 17.5 kHz
Audio Target Indication
Manual Ground Balance
Three modes of operation: GENERAL (non-discrimination mode for maximum depth), MODE 1 and MODE 2 are a discrimination modes
IRON AUDIO - on/off feature to detect only the non-ferrous metals by turning ferrous target sounds off completely
Discrimination with 3 different AUDIO Tones
3 different lightweight and water resistant DD search coils: 23 cm (9 inches), 28 cm (11 inches) and 45 cm (18 inches)
Headphone Output: ¼ inches jack (Mono)
Shaft Length: 127 -152cm (50-60 inches)
Power Supply: 8 AA Alkaline or rechargeable batteries
Battery Life: max 30 hours
Weight: 1.6 kg (3.5 lbs) search coil included
The Makro Coin Finder CF77 is a user friendly metal detector designed with ease of use in mind. A clever ergonomic design and simplified controls let you hunt all day without fatigue. Both mid-level and professional users will appreciate the clever design and intuitive operation. CF77 delivers: from rocky terrain and heavily mineralized conditions to farm fields, beaches and areas littered with junk.
Excellent Metal Detector
Viking Vic in UK -

I have used my CF77 for a year now and although I quite like digital displays, its quite nice not to be distracted by it.
The depth of the finds are about 2ft on certain metals and you can completely turn off any interference from ferrous metals, iron and mineralisation. This helps when scouring the beach and rocky areas.
I really rate this machine. It's easy to put together, comes with 3 sizes of coils. It comes in a bag for easy transport and is a comfortable size and weight for all day use. The battery lasts for a good 2-3 days of constant use.
Highly recommended for beginner/intermediate and even experienced detectorists.
Jun 06, 2017
3 people found Viking Vic's review helpful.