OKM Gepard GPR Reviews, Price and Specifications
Ground Penetrating Radar with Android Tablet PC
Retail Price: $25,000.00
Number of Reviews: 0
Be the first to review this item
Email to a friend.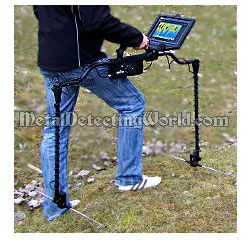 Specifications:
Omni-directional unshielded transmission system
Multiple transmission frequency range starting at 60 MHz up to 300 MHz
Adjustable telescopic antennas
Android Tablet PC integrates a GPS signal, Google Maps, automatic filtering and entering notes
Maximum depths up to 40 meters
Operating temperature: -20 °C - 50 °C
Storage temperature: -25 °C - 70 °C
Air humidity: 5 % - 75 %
Waterproof: No
Control Box Dimensions (H x W x D): 350 x 182 x 60 mm
Control Box Weight: about 1.7kg
Voltage: 9.6-13.2 VDC, 18 W maximal
Operating Time (AA Batt): ~6 hours
Accumulator Batteries: ~ 3 hours
OKM Power Pack: ~ 10 Hours
Feedback: audible, visual
Indications: LED
External Power Pack: Yes (Optional)
Multi-Function Control: Yes
Transmission Freq Range: 60 MHz-300MHz
Timing/Sampling: 16 Levels
Complete Cycle: 9 per second
Data transmission: Bluetooth Technology
Frequency: 2.4-2.4835 GHz
Max Transfer Rate: 1 Mbps
Receiving Sensitivity: -85 dBm
Max Range: approx. 10 m
The Gepard GPR is a very flexible, transportable and powerful ground penetrating radar for detecting underground items like pipelines, cavities, cables, conduits, tunnels, bunkers, foundations and the like.
The RADAR (Radio Detection and Ranging) sends a signal into the ground and awaits the reflection or echo of the signal to detect sub-surface anomalies, like the following:

underground walls, basements and concrete reinforcements, hidden cavities, graves and sepulchers,
water level and underground rivers and aquifers, buried pipelines, conduits and cable harnesses,
backfilled wells, galleries, trenches and dugouts, septic tanks, distribution boxes and drainage pipes,
secret tunnels, bunkers and shelters, buried treasure chests, statues and caches.