Nexus Bonanza Reviews, Price and Specifications
All-Purpose Land Metal Detector
Retail Price: EUR 495.00 ($665.00)
Number of Reviews: 0
Be the first to review this item
Email this page to a friend.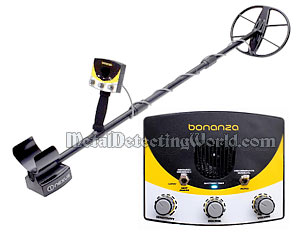 Specifications:
• Operating Frequency Range: 6 - 18kHz
• Coil Design: DD
• Coil Weights:
13 inches DD - 650g
10 inches DD – 540g
7 inches DD - 350g
• Coil Case Construction: ABS plus Fibreglass
• Audio Frequency: Custom tuned
• Audio Output: 6mm stereo headphone jack
• Power Supply: 15v (10 AA alkaline or rechargeable batteries)
• Battery Life: up to 40 hours
• Operating Modes: All-Metal, Discriminate and Auto tune
• Optimum Temperature Range: 15° to +60° C
• Optimum Humidity Range: 0 to 85% RH
• Designed to be as simple as possible for operation.
• Equal results in every ones hands – novice and professional alike.
• Utilizes 44% more powerful transmitter than the older top model Nexus Standard SE
• Bonanza is suitable for work on every site, every ground condition and also salt water tidal beaches. Heavy mineral conditions are not challenge anymore and hot rocks are ancient history.
• Bonanza is a non motion type of detector with fast auto tune, with induction balance resonant tuned (99%) search coil.
• Tri-pole stem construction enables every user to work with the detector on very steep surface, river banks, caves, narrow spaces.
• Manual controls:
Volume combined with a Power On/Off switch
Sensitivity
Discrimination
Auto/Manual Discrimination toggle switch
Ground minerals, Hot Rocks rejection toggle switch
• Build in loudspeaker
• Headphone socket
• Battery recharge socket
• 10AA battery compartment
• Weight (main unit only): 950g (without batteries)