Mikron NRG 150 Reviews, Price and Specifications
All-Purpose Land Metal Detector
Retail Price: €350.00 ($470.00)
Number of Reviews: 1
Avg. Rating (4.0 Stars)

Email to a friend.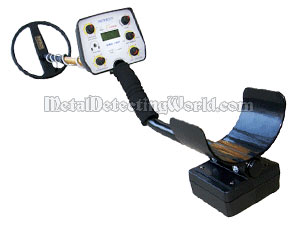 Specifications:
Operation frequency: 12,5 kHz
Microprocessor control of discrimination and auto ground balance
Automatic sound discrimination of metals during searching
Manual or automatic Ground Balance
SAT control for Self Adjustment Threshold Speed
VCO for pinpointing
High tolerance to electromagnetic interference
Low Battery indicator
Search Coil: stock 27cm
Power: Built-in 12V Battery
Battery Life: 25 hours; with external battery - 60 hours
Weight: 1.5 kg (3.3lbs) including batteries
Deep and fast.
Matt in Finland -

I don't say that this is the best metal detector on the market, but for the price it's a very interesting choice. This Bulgarian detector have an excellent recovery speed. Picking up coins from very good depth, even on the salt water beach. A 20-cent coin from 13-16 inch depth even in trashy areas using iron mask mode. Using the 8x11" 14khz coil.
Mar 23, 2015
9 people found Matt's review helpful.