Sennheiser HDR-160 Reviews, Price and Specifications
Wireless Headphones for Any Metal Detector
Retail Price: $199.95 (€152.00)
Number of Reviews: 0
Be the first to review this item
Email to a friend.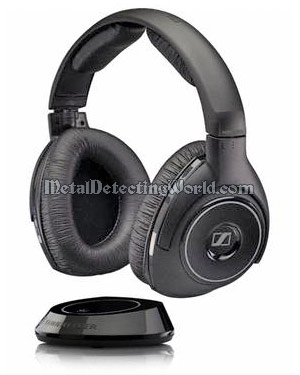 Specifications:
Compact portable transmitter with multi-receiver capability (up to 4 people listening to the same audio source)
That "wired" hi-fi sound without wires
KLEER Digital wireless headphone system
Interference-free reception without manual tuning
Dynamic transducer systems with neodymium magnets for bass-driven audio reproduction
Ergonomic design (adjustable) headband for an excellent and secure fit
Digital Volume Control with Mute Function
No set-up required - just plug and play
Wireless Operating Distance: 20 m
Earpiece Type: Binaural
Minimum Frequency Response: 18 Hz
Maximum Frequency Response: 21 kHz
Sound Mode: Stereo
Impedance: 32 Ohm
Battery: 2 x AAA NiMH rechargeable batteries
Multi-country charger, charging cable and detachable audio cable
Weight (Approximate): 226.0 g
Limited Warranty: 2 Year
The RS 160 is a two-part system that combines the best wireless audio quality with a truly versatile compact transmitter for using with any metal detector that has a headphone socket. This wireless headphone system consists of a pair of wireless headphones (HDR 160) and a compact transmitter (TX 160) which runs on AC or battery power to best accommodate your applications.