XP WS-1 Wireless Headphones Reviews, Price and Specifications
Earclip Headphones for Gold Maxx Power
Retail Price: $160.00 (€122.00)
Number of Reviews: 0
Be the first to review this item
Email to a friend.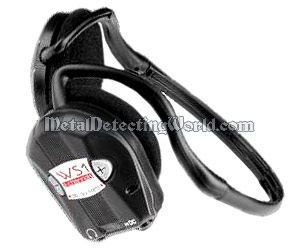 Specifications:
Two switchable channels (Ch1/Ch2) to stop interference between detectors (two users with the same channel can detect distant of 15 metres without interference)
Foldable and Compact Backphone type wireless headphone
Miniaturised electronics with two microprocessors: one for transmission and one for reception, enabling a wireless digital connection.
Sound quality matches wired headphones
Digital microprocessor transmission with no white noise or background hiss
The receiver earpiece features an audio amplifier and two tactile keys to set the volume, and the setting is memorised for future use.
Lightweight: only 70g (battery included)
The headphones feature a charger connector and 3.5 mm audio socket to connect it to any other headphones, and you can then place the receiver in your shirt pocket, for example.
Battery: Built-in extra flat rechargeable Lithium battery (7g), without memory effect
Battery Life: 50 hours
Fast Lithium charger: 2 hours
Charge monitoring system and full charge LED
No external unit and no additional power supply for the radio transmitter, as it is already directly integrated into XP detectors' circuit boards: ADX250-ADVENTIS II, GMAXX II and GOLDMAXX POWER (Available as an option for most previous XP models)
Splashproof: with seals moulded to its profile and end caps, the WS1 is splashproof, and headphone speakers are made of MYLAR and are also splashproof.
The headphone's earpiece, which holds the miniature radio receiver and the Lithium battery, is fully independent and can be removed, and you can replace the backphone without having to purchase a new earpiece and vice versa.