XP Deus WS4 Wireless Headphones Reviews, Price and Specifications
Earclip Headphones for XP Deus
Retail Price: $235.00 (€179.00)
Number of Reviews: 2
Avg. Rating (4.5 Stars)

Email to a friend.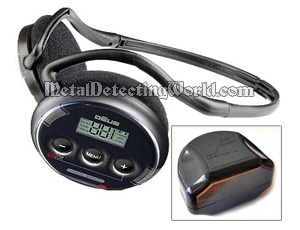 Specifications:
Wireless backphone with its own operation controls and screen
Light and foldable (backphone is removable to replace it easily)
Can control the detector alone independently of the remote control
Can adjust all the main detection settings: Sensitivity, Discrimination, Ground balance, Operating Frequency (4, 8, 12, 14, 18, 28, 54, 80kHz), Multi-Tones, Volume etc.
Sound quality matches wired headphones
Digital microprocessor transmission with no white noise or background hiss
Factory pre-set programmes
Splashproof
Battery: Built-in Lithium Polymer (LiPo) battery without memory effect, and charger provided
Battery Life: 27 hours
Fast Lithium charger: 3 hours
Battery charge indicator
ABS transport/storage case
Waranty: 2 years
Over kill Belt and braces
Peter in Sussex UK -

If you are going to purchase the Deus headphones, you are making a wise move for sure,and they are not cheap quality.
So if you are on a budget, you may consider this. I now speak for what you can purchase in the UK. It's a version of the Deus headphones but with choices. It's called the Lite.
You can buy the Deus without the remote controller,and just have the shaft, coil, upper stem and headphones which in themselves allow you to make many of the adjustments the controller does, and you save yourself a third of the cost.
The better option is to buy the controller instead of the headphones, and wear it around your neck in an IPhone case. Use a 5/8 to 1/4 adapter and use your own phones!
Feb 03, 2014

Nothing Can Match This Innovative Set So Far
Sergei UpstateNY in Albany, NY USA -

They are just fantastic! Not only because they are wireless, compact, light, foldable and durable, but also because they are a technological break-through! Being the XP Deus' second "brain" as they can operate independently from the Deus' main "brain" - a remote control, they allow to "double up" the Deus (see details on how to make two Deuses out of one here: http://metaldetectingworld.com/xp_deus_doubled.shtml (just copy this link and paste it into your browser window))! For my girlfriend and me that was a God-send because now we have two up-to-date metal detectors at the price of one! This means that together we can productively search our favorite hunt sites again and "vacuum" new "fructiferous" hunt sites with the highest time efficiency possible. And as nothing can match the Deus at the medieval sites we usually hunt, we are equally equipped with the best machines!
The Deus' headphones really do an excellent job. When I first saw them in the box, I was very sceptical about their construction and design. It was hard to "break away" from the long-established , traditional concept of the headphones specially designed for metal detecting and featuring around-ear comfortable cushions that block all ambient noises, high impedance (100 Ohm or higher), wide range of frequencies, etc. After having used the Koss headphones for 15 years, I was looking at the Deus' headphones and thinking, "Are these for real?! How can I hear all barely perceptible responses to deep targets with these Earclip toy-headphones for MP3 player?" Well, I immediately realized how much I underestimated these headphones when I started metal detecting with them. Not only I heard crispy-clear responses to tiny hammered coins, but also could keep a conversation with my treasure hunting buddy while metal detecting! (my buddy had to take his "normal" headphones off to hear me)
With all the miniaturised electronics - two microprocessors, LCD window, etc., and a tiny Lithium Polymer (LiPo) battery, and the hardware, these headphones remain comfortably light - they weigh only 80 g! This set represents a really big leap in headphone technology. Anyway, the Deus' headphones made me look out of my "old school" box" (nothing to say about the Deus itself getting me finally out of my "old school" state of mind)! After I quickly got used to the set, in the beginning, I even kept forgetting to take it off my head and drove off still wearing the headphones a couple of times! :)
The headphones' design is well-thought-out. The earphone is fitted on a sliding support and can be disconnected from the backphone with a single click. Placement of the earphone on the left side allows to adjust sound volume using a left hand while holding the detector with a right hand and swinging a search coil to get a target signal. After little practicing, locating and pressing a right push-button on the earphone while the headphones are on your head is easy.
A transport/storage case for the headphones is great to have as it prevents the set from any accidental damage should the headphones end up at the bottom of a gear bag.
The wireless signal transmission is flawless: no white noise, no signal lag, and no interference with an electronic pinpointer (Garrett Pro Pointer). A few times, I metal detected under light rain, and the headphones were not protected, and under low and subzero temperatures. The Deus' headphones did not fail once in all cases. So far, after six months of using them, I can not name a single problem; hence they got my 5 stars. And I can not name any other headphones that could match the Deus' headphones in all aspects.
Jan 03, 2013