Bounty Hunter Pinpointer Reviews, Price and Specifications
Hand-Held Electronic Pinpointer
Retail price $69.00
Number of Reviews: 1
Avg. Rating (5.0 Stars)

Email to a friend.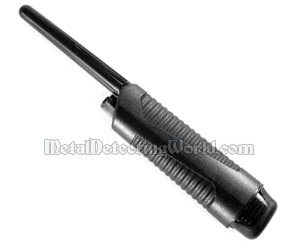 Specifications:
Designed to be used with any Bounty Hunter metal detector to help find treasure
Handy tool for homeowners, hobbyists and mechanics - anyone needing to find lost metal objects
Easy-to-use with single-knob control to adjust sensitivity
Audio signal indicator and vibrator
Small and light for easy handling and carrying
No assembly required
Battery: one 9-volt battery (not included)
Good for the price and for digs!
Ritchie in Saratoga NY -

I bought a BH pinpointer 4 years ago to replace my old Wizard pistol grip type, which I had lost in the woods. So I needed something cheap and easily obtained from the local Wallmart. To this day, it is still working great, so the unit's build quality is A+.
It's small, non-bulky, and fits with ease, unlike a lot of other pinpointers, into your detecting pouch.
As for detection/pinpointing, well, you get about 1-2.5", but the factory sensitivity could be tweaked for better depth if you know your electronics.
The only cons of the unit is the black color which is an easy fix with bright waterproof tape.
To sum it up, it's worth it, especially if your a weekend hunter or a daily digger on a strict budget. I'm a serious digger and this pinpointer blew away 2 competitors $100+ units.
Give one a try and be surprised...
Apr 11, 2014