Nokta RS Pinpointer Reviews, Price and Specifications
Hand-Held Electronic Pinpointer
Retail Price: $189.00 (€145.00)
Number of Reviews: 1
Avg. Rating (5.0 Stars)

Email to a friend.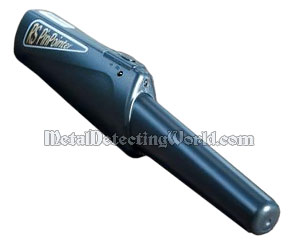 Specifications:
VLF Technology
Operating Frequency: 8.8kHz
Metal Identification: Audio or Vibration Alert
Sensitivity: Automatic
Dimensions(LxWxH): 9.2 x 1.9 x 1.1 inch
Multi-purpose Use: You can use the RS Pinpointer not only for metal detecting as a hobby but also to locate metal pipes, nails and studs inside walls.
Choose Between Audio or Vibration alert: With one sliding switch, you can choose the device to produce an audio or vibration alert when metal is detected
360 Degree Detection Tip: Allows you to easily locate metals in a hole.
Auto Tuning: Provides maximum sensitivity with no adjustment necessary. Just turn it on and it is ready for use.
LED flashlight: Lights up automatically in the dark. You can also activate the LED flashlight by covering the light sensor on the device.
Waterproof Pinpointing Tip: Allows you to use the RS Pinpointer in shallow water when necessary.
Belt Clip Case
Weight: 5.3oz
Battery: 9v (Included)
Battery Life: 40 hours
Nokta Pointer as a Back-Up
Pieter in amsterdam holland -

The Nokta pinpointer gets the job done. It takes some time but it works ok. The Garret pinpointer is better for 30 Euro more. I paid €105 for mine and tested it outside. It tells you when you get close to a target, but you need to touch the target to get a full tone like with the Garret. I think I will keep this one as a back-up. I'd give 9 points to Garret, and 7 points to Nokta.
Dec 20, 2013