Lorenz Deepmax X6 Reviews, Price and Specifications
Deep Searching PI Metal Detector
Retail Price: $12,999.00 (€9,800.00)
Number of Reviews: 1
Avg. Rating (5.0 Stars)

Email to a friend.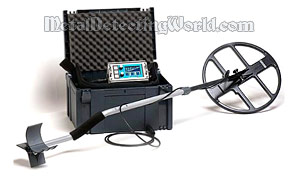 Specifications:
Highly sensitive to all kinds of metal
Stable operation on mineralised ground or salt water
Reliable/simple operation
Exact pinpointing with large coils
Very easy and effective detection of large areas
Rugged, refined mechanical construction
Waterproof Search Coils: 14" (35cm) DD Coil and 40" x 40" (1 x 1M) Frame Coil
Automatic adaptation of different coil sizes to the electronics
Small unwanted metal objects can either be identified or eliminated
Fast audio response speed with voltage controlled oscillator (VCO)
Logarithmic audio response and intensity bar graph reading for easy pinpointing
Battery check with audio alarm tone
Calibrated static (non-motion) target classification with visual time delay reading
Improved ferrous/non-ferrous identification which is less affected by the ground
Precisely adjustable audio-threshold
Stable static response (acoustical and visual)
Interchangeable rechargeable Battery pack
Charge electronics with interchangeable AC-plug for world-wide operation
Frequency control for interference elimination
Automatic push button retuning facility
Different Delay and Sensitivity settings to eliminate small objects or for easy pinpointing
Extreme detection depths for very large metal objects
Optimal performance for the detection of small objects like coins or other non-ferrous objects as well as for bigger objects buried deep.
Single or dual induction balanced or differential coil designs can be used.
Multi sensor detection (MST) with several searchcoils working at the same time without interfering each other.
Easy to use Built-in Data Logger function (built in the Deepmax X6 only) Works with additional Hard- and Software to generate six 2D image and six 3D surface maps from the scans being taken.
Additional GPS-Module
New GPS based meter, Track, Field and compass
New search system with new LC Display simultaneously displaying signal strength bar graph, time delay reading, ferrous/non-ferrous icons, battery condition and all the mode settings
More stable ground balancing functions for less interference in urban areas
Improved AUTO function which gives with most targets only one indication instead of two when ground balancing system is selected to make the unit even more stable.
Completely New GROUND balancing systems with DD coils gives additional depth to small and large non-ferrous metal objects.
Automatic false finding target identification.
The best PI detector for professional research
Raul in Europe -

The best metal detector for deep search, no false signals, and truly professional using the data logger with the program Surfer and GPS data.
Jan 11, 2013
47 people found Raul's review helpful.