Black Bull DS-30 Digital SuperScan Reviews, Price and Specifications
All-Purpose Land Metal Detector
Retail Price: $240.00 (£148.00, €169.00)
Number of Reviews: 0
Be the first to review this item
Email to a friend.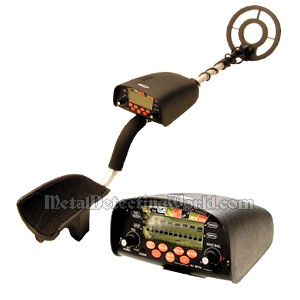 Specifications:
VLF very low frequency motion design
Search 6.6 kHz Frequency range up to 100 Hz
3 detecting modes:
1. Discrimination mode
2. Tone discrimination mode
3. All metal search mode
Highly effective discrimination, scrap metal, nails, lips and ironparticles (adjustable) filtered out
Notch Discrimination
Digital adjustable sensitivity
Large digital display with depth indicator
Target Track, automatic and manual ground balance
Search Depth: coins to 35 cm, 60 cm tins, 200 cm large objects
Built-in speaker
Power 2 x 9 volt battery
Low Battery Indicator
3.5 mm headset jack
Housing made of sturdy plastic electronics
Height adjustable
Waterproof search coil 20 cm open
Weight: 1.4kg (3.08 lbs)
All-round and can be used anywhere
Digital metal detector for both professional and hobby use. VLF (very low frequency, 6.6 kHz) coil guarantees great depth.