Black Bull DS-16 Junior Reviews, Price and Specifications
Metal Detector for Children
Retail Price: $92.00 (£57.00, €65.00)
Number of Reviews: 0
Be the first to review this item
Email to a friend.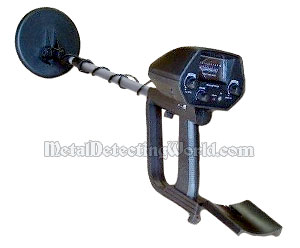 Specifications:
VLF very low frequency motion
Search Frequency range up to 6.6 kHz
Highly effective discrimination, scrap metal, nails, lips and iron particles (adjustable) filtered out
Signal Strength Meter
Adjustable sensitivity
Target track, automatic ground balance
Search Depth: coins to 25 cm, 50 cm tins, 150 cm large objects
Built-in speaker
Batteries: 2 x 9 volt battery
Low Battery Indicator
3.5 mm headphone jack
Electronics box is made of sturdy plastic
Height adjustable
Waterproof search coil
Low weight: 1.6 lbs (0.750 kg)
1 year warranty
Motion detector with superb filtering of nails, beer caps and pull tabs, leaving only the metal finds. Easy to use, DS-16 finds coins, keys, cellphones etc. Discrimination and sensitivity control decreases unwanted signals. Internal speaker, volume control, empty battery led. Suitable for children aged 6 years because of the adjustable short handle.