Blisstool LTC64X v1-v2i Reviews, Price and Specifications
All-Purpose Land Metal Detector
Retail Price: $1,090.00 (€670.00, £590.00)
Number of Reviews: 2
Avg. Rating (5.0 Stars)

Email to a friend.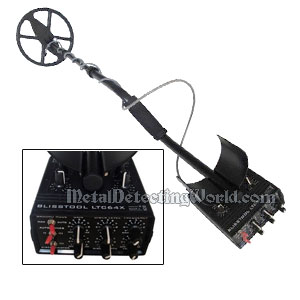 Specifications:
Operating mode: motion
Sound discrimination of the metals
Designed to work on all types of terrains
Resistance and in highly mineralized and strewn with ceramics terrains
Automatic LiPo battery charger
Manual and Automatic ground balance mode
Coarse and fine settings in manual ground balance mode
Switch with three auto ground zones
High detection speed
High recovery speed
Adjustable input AC amplification of the signal from the detected object
Adjustable frequency of the sound
Adjustable silencer of the background sound
Adjustable audio threshold
Adjustable audio volume control
Discriminator with three independent modes of discrimination
Adjustable detection/rejection level of iron, tin-foil and low-grade non-ferrous metals
Adjustable depth of discrimination
LED low battery indicator
Single charge operating time: up to 30 working hours
Consumption: min: 35mA, max: 100mA
Detachable and adjustable carrier construction made from duraluminum and carbon
Robust and comfortable handle and armrest
Electronic block from light and robust box made from ABS and duraluminum
Electronic block located under the armrest
Electronics fully shielded against electromagnetic interference
Double shielded against electromagnetic interference cable for the search coil
Connectors for the search coil with gold-plated pins
Connectors for battery charging with gold-plated pins
Blisstool LTC64X is a contemporary professional metal detector, designed to work on all types of terrains, including highly mineralized terrains and terrains with a high content of ore. It is outstanding for its high quality, easy user's adjustment and minimal maintenance need. This makes it equally suitable for beginners and experienced searchers.
LTC64X v1 is the standard version.
LTC64X v2 is a version specially adapted for heavy field conditions.
LTC64X v2i is an improved version of v2.
Specialist machine...
Blackhat in United Kingdom -

It's taken me a long time to produce a review of this machine as I like to try a minimum of two detectors just in case one is a lemon.
This is a type of detector I like as I have little time for VDI, notch etc. I also don't require high levels of discrimination which in this case is a good thing. Weight/balance is O.K. Just under 4lbs with the stock coil.
The manufacturer warns that it's not best suited to park and school yard hunters which is true. It's a pity that those pushing the machine in both the U.K. and U.S. are not quite as honest. In my view, it's a specialist machine and not an all round one so not quite as cheap as you might think as you will need one or two other detectors to do well on all types of sites.
A detector that would tackle both land and wet beach is my dream and the claimed "depth comparable to P.I. machines" immediately drew my attention. Alas, that was not to be. A quality P.I. has more depth on the full range of wanted targets and is able to work black sand beaches where the Blisstool fell down.
On land, I did not find it hard to get greater depth than many of the mid-range detectors but performance was not deeper than some of the slightly higher priced machines. I did not have the trouble with ferrous junk that has led many to sell their machines. Though having worked my way up from early non discriminators through I.B.'s and TR's certainly helped.
It is a noisy machine though and is more wearing to use over a few hours than many others.
At the moment, I find it difficult to recommend except to those who are interested in relic hunting and also have other detectors. The delivery delays of months are a disgrace as is this new idea that the customer should return the detector for repair/service to Bulgaria. The importers should have service centers. Loan detectors do not tackle this problem.
Kibertron (the parent company) is often mentioned by dealers to indicate, I assume, that Blisstool is a well established company. "Producers of the most humanoid robots in the world today". Hmmm. Where are these robots? Things seem to have grounded to a halt after the production of a short animation film. I would feel better if we had got to see pictures of the "new big factory" that the dealers recently visited but this apparantly is not allowed.
To sum up. Consider if the Blisstool will suit your hunting needs and sites. Then try to borrow one and try it against your current detector then make your decision.
Nov 24, 2012
25 people found Blackhat's review helpful.
Blisstool ltc 64x v2I
Jimbo in U K -

I have had the v2I for a few months now and, although it has no meter on the unit, it is a beast of a detector. It will find small coins at a depth down to about 12 inch if you set it up right. It does take a while to get used to all of the switches, but once you have played with it for a few weeks, it all starts to make sense. I have gone over a path with this detector that I have previously done with 2 other detectors & found more coins at a greater depth. If you want to get a good depth detector, & you are not afraid of the learning curve, this is one to look at.
Jun 21, 2012
23 people found Jimbo's review helpful.