Scanmaster Gold ID Reviews, Price and Specifications
Budget All-Purpose Land Metal Detector
Retail Price: $128.00 (£79.95, €92.00)
Number of Reviews: 0
Be the first to review this item
Email to a friend.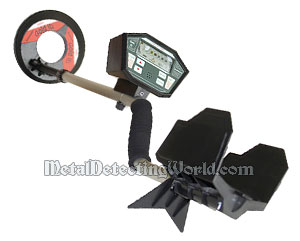 Specifications:
Operation Frequency: 5.5 kHz
Sensitivity depth adjustment
Waterproof 21cm Polo Coil
Built in speaker with clear tone
Battery level indicator
Hidden coil cable, inside stem
3.5mm Headphone jack socket
Improved microprocessor controlled
Simple set up and go operation
Length: 108cm -129.5cm (Adjustable)
Depth: approximately 4-5'' into the ground on a 2-pence piece
Lightweight Weight: 1.2 kg (2.4 lbs)
Batteries: 2 x 9v
Warranty: 1 Years
The Scanmaster Gold ID is the top of the range budget metal detector for all of the family. Featuring excellent depth, accurate target identification, depth indicator and discrimination. The fully automatic Gold ID's depth indication allows visual target identification, sensitivity, depth adjustment and is the ideal budget detector for families and treasure hunting.
The Scanmaster Gold ID has full range, multi notch discrimination modes and senisitivity/depth indicators as well as multi discrimination settings.
The Scanmaster Gold is a robust budget detector with a great search depth and target pinpointing capabilities. The new improved microprocessor controlled Scanmaster Gold is at the top end of the budget detector range. Lightweight and easy to set up, the coil cable is stowed away inside the stem during use for ease and convenience when detecting.