Bounty Hunter Discovery Discovery 2200 Reviews, Price and Specifications
All-Purpose Land Metal Detector
Retail Price: $378.00 (£234.95, €268.00)
Number of Reviews: 1
Avg. Rating (4.0 Stars)

Email to a friend.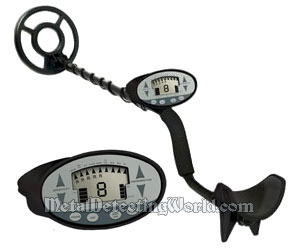 Specifications:
Digital 9-Segment Target ID: Identify buried targets
Digital Coin Depth Indicator: Identify depth of targes
Four-Tone Audio Feedback: Audible tool for target id
Touch Sensitive control: Reduce interference
Touch Discrimination Control: Along with Disc and Notch modes eliminate junk
One-Touch "Zap": Immediately eliminates unwanted metals
8" Interchangeable, Waterproof Coil: Detects in shallow water
Lightweight, Ergonomic Design: Provides ease-of-use and comfort
Operates on Two 9-Volt PP3 batteries (not included)
Visual Target System: LCD Display
Preset Ground Balance: Neutralizes the response to ground mineral content
Modes of Operation: Motion all-metal, progressive discrimination, and notch system
Headphone Jack: Compatible with most headphones
Lightweight: 1.03kg (2.06 lbs)
Length: 114cm - 133cm (Adjustable)
Operating Frequency: 7.8 kHz
Warranty: 2 Years
The Bounty Hunter Discovery 2200 metal detector, with discrimination and notch controls, allow junk items such as bottle tops to be rejected whilst boosting the detection for potentially valuable objects. An LCD readout provides information on the type of metal currently being detected. Featuring a 9 segment digital target identification display with 4 tone audio feedback for accurate detection of buried objects.
As the coil nears a target, the Discovery 2200 3-tone audio feedback helps to distinguish between valuables and undesirable metals. This model also comes equipped with a 1/4 " headphone jack compatible with most headphones while treasure hunting. In addition, all Bounty Hunter detectors are equiped with a preset ground balance that neutralizes the response to mineral content in the ground.
Works well for the price.
Tom in Southern California -

This detector is available in the U.S. and sold as the Elite 2200. It's often on sale for $130-$170. I understand it's sold through Radio Shack as the Discovery 2200.
I found that it works well. The three-tone audio signals are easy to interpret, so you have a good idea of the type of target you are about to dig.
I've used it mostly on beaches in Southern California. Pinpointing is pretty easy with practice, but you need a good sand scoop to find targets quickly and sift out the sand.
I did some quick and unscientific comparisons with a Tesoro Silver uMax detector and found that the 2200 isn't as effective at detecting a good target, such as a quarter, when it's next to a junk target, such as a bottle cap or nail. The 2200 doesn't sound off for the good target when the junk is too close. So you\'ll overlook some good stuff sometimes. But for the price difference, it still does quite well.
If you can only afford $130 and you find it for that price, the 2200 is a good choice.
Jan 15, 2013
26 people found Tom's review helpful.