Nexus Coronado Groundfix Reviews, Price and Specifications
Beach & Land Deepseeking Metal Detector
Retail Price: 625.00 EURO ($799.95)
Number of Reviews: 0
Be the first to review this item
Email this page to a friend.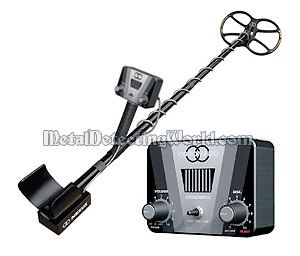 Specifications:
• Coronado Groundfix's design offers a versatile use on most inland sites and salt water beaches around the world including sites with heavy mineral deposits and black sand beaches. Coronado Groundfix is a general-purpose metal detector capable of finding both small and large targets at extreme depths. Each Nexus metal detector is hand-built.
• Operating Frequency Range: 4.2 - 18 kHz, depending on search coil model
• Motion Turn-On-and-Go detector with fast recovery speed
• Volume control combined with Power on/off switch
• Discrimination control
• Automatic Ground Balance control fixed in 3 levels which are tuned for different ground mineral content.
• Headphone set
• Telescopic Glass Fibre stem with scratch and wear resistant gloss paint and locking pin
• Search Coil: Dual 6" Coronado Silver search coil - Twin Concentric Overlapping, environmentally sealed ABS Glass Fibre, resin potted; accessory search coils are available.
• Coil Weights:
Coronado Standard: 650 gr.
Coronado Gold: 400 gr.
Coronado Silver: 420 gr.
Coronado Hoard: 500 gr.
Nexus Gold: 360 gr.
• Audio Frequency: Custom tuned
• Audio Output: Built-in Loudspeaker or 6 mm headphone jack.
• Operating Mode - Discriminate
• Batteries: 12v (8 AA alkaline batteries)
• Battery Life: up to 35 hours of intermittent use
• Weight: 1.3 kg (2.8lbs.) with batteries