Bounty Hunter Pioneer 503 Reviews, Price and Specifications
All-Purpose Land Metal Detector
Retail price: $449.95
Number of Reviews: 0
Be the first to review this item
Email this page to a friend.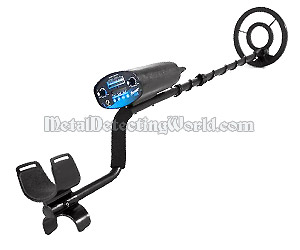 Specifications:
• Operating frequency 6.8 Khz
• Deepest Seeking Detection: detect large objects up to 5 feet deep, coins up to 11 inches deep
• 4 Modes of operation:
Motion All-Metals
Discrimination
Auto Notch
Notch
• Automatic Ground Balance:
Sees through the earth's naturally occurring minerals
Automatically scans the soil in the Motion Modes and continuously adjusts to changing soil conditions.
• LCD Depth Reading Meter: real depth indicator displays depth of coin sized objects in inches
• Target Identification
• Change modes quickly and easily
• 3-Tone Target Identification:
Low tone for iron, nickel and small gold
Medium tone for zinc, large gold and most trash
High tone silver and copper
• Full Discrimination and Notching Capability:
Disc/Notch control allows user to detect or reject a range of metals. You decide what to detect and which unwanted metals to ignore.
• Weight: 2.8 lbs
• Batteries: 2 x 9 Volt batteries (not included)
• Warranty: 5-year limited