Fisher CZ-21 Quick Silver Reviews, Price and Specifications
Underwater & Dry Land Metal Detector
Retail Price: $1349.00
Number of Reviews: 0
Be the first to review this item
Email this page to a friend.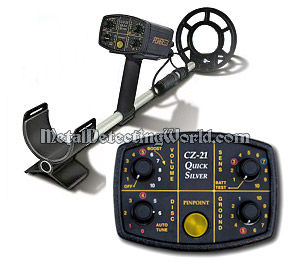 Specifications:
• Recommended for Beach Hunting, Shallow Water, Lake /Surf, Diving.
• Operating Frequency:
Dual, VLF Search 5 KHz and 15 KHz
• Audio Target Response:
Iron I.D. - 200 Hz (Low tone)
Foil and Tab I.D. - 450 Hz (Mid tone)
Coin I.D. - 1 KHz (High tone)
• Dual Frequency Fourier Domain Signal Analysis
• Easy Manual Ground Balance
• High Performance in Mineralized Soil
• Large Target Alert / Faint Target Audio Boost
• 3-Tone Audio Target ID
• Length Extended: 50"
• Length Collapsed: 30"
• Control Housing Weight: 2.8 lbs.
• Complete Weight (with headset):
8" Coil - 5 lb 11 oz
10.5" Coil - 6 lb 1 oz
5" Coil - 5.4 lb
• Autotune: 500 Hz - 1 KHz (VCO)
• Pinpoint: 500 Hz - 1 KHz (VCO), Touch-Button., VCO no Motion, Precise Pinpointing
• Operating Modes
1. Autotune - VLF-Motion, all-metal with threshold tone
2. Target I.D.: VLF-Slow Motion, Silent Search Discrimination
3. Pinpoint: VLF, All-Metal, No Motion
• Search Coil: Concentric, Co-Planar, 8", 10.5" or 5"
Shielding: 100% ESI, not interchangeable
• Headset: Waterproof, Piezo Electric, not interchangeable
• Ground Balance: Touch Pad, Manual or "Preset" Control Markings
• Hipmountable Control Housing: Yes
• Salt Water/Fresh Water Operation: Yes
• Land Operation: Yes
• Submersible: to 250 feet
• Limited Warranty: 5 years