White's GMZ Reviews, Price and Specifications
Gold Prospecting Metal Detector
Retail Price: $499.95 (€350.00)
Number of Reviews: 1
Avg. Rating (2.0 Stars)

Email to a friend.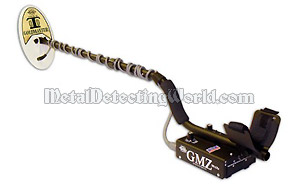 Specifications:
Operating Frequency: 50 kHz: Operating at the optimum frequency to detect small, medium, and large gold.
Silent Search - no audio threshold sound
Waterproof Search Coil
All-Metal Operation: Hear all metal targets. Especially good for prospecting, the GMZ has no iron or trash metal rejection.
Weight: 3.3 lbs with batteries, the GMZ is well-balanced for all-day hunting
Ground Rejection System: Easy-to-use manual ground rejection system
Simple Operation: Only three controls - Sensitivity knob, Ground Reject knob, and Ground toggle
Accessory Coils: Can be used with any White's Goldmaster Series (48 kHz - 50 kHz) accessory search coils.
Uses: Can also be used for prospecting as well as industrial "All Metal" applications where small targets and high sensitivity to all metal types are desired.
Parts and Labor Warranty: 2 years
Australian Goldfields
Denes Szokolai in australia -

The GMZ is at the cheaper end of gold detectors, and you get what you pay for. It's a quick and easy detector and perfect for someone coming into the game of gold prospecting, but in the Australian goldfields it's too noisy. If you can save a little more, buy a pulse induction detector.

Jun 02, 2012
19 people found Denes Szokolai's review helpful.