White's Prizm 6T Reviews, Price and Specifications
All-Purpose Land Metal Detector
Retail price: $699.95 (£349)
Number of Reviews: 1
Avg. Rating (5.0 Stars)

Email to a friend.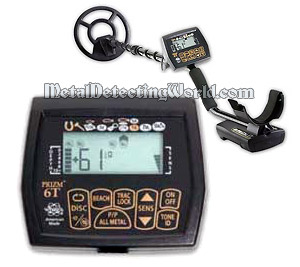 Specifications:
Operating Frequency: 8 kHz
Automatic Ground Balance with Fast Tracking - eliminates ground minerals and improves performance in all kinds of ground conditions.
VDI: Visual Discrimination Indication numbers readout provides precise target info.
Adjustable Notch Discrimination: Provides 9 notches to cover the full target range.
Back-lit Display: With Sensitivity Graph, target ID, VDI number, Depth Reading and Battery Check.
VCO: Pinpointing gives a higher pitch as you approach the target.
Beach Mode: For increased performance on the hard-to-hunt ocean beaches.
Search Coil: 9.5 inch Waterproof
Length: 45" - 50" (Adjustable)
Weight: 1.36 kg (3 lbs)
Batteries: 8 x 1.5v AA Batteries, Long-life, snap-in 'AA' battery pack included
Warranty: 2 years
Detector metal
John Staten in Bg Kentucky -

Very happy with the detector.
Sep 27, 2016
1 people found John Staten's review helpful.