Whites Spectra V3 Reviews, Price and Specifications
All-Purpose Land Metal Detector
Retail Price: $1499.95, €1399.00
Number of Reviews: 4
Avg. Rating (4.8 Stars)

Email to a friend.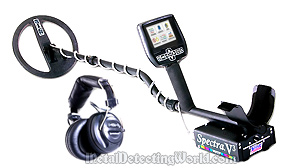 Specifications:
Full-Color High Definition Display:
All the target info in bold, high contrast color, bigger VDI numbers, icons and SpectraGraph, the ZOOM key to enlarge or reduce display info, preset color pallets or create your own custom color schemes for each program.
Analyze and 3 Frequency SpectraGraph Screens:
Shows target information using ALL of the data collected from each frequency: shows a "shape" based on the strength and a bar-graph.
Wireless SpectraSound Headphones: multiple channels to choose from to avoid picking up signals from other Spectra V's in the area, or set two headphones up to hear targets from one detector.
10 All-New Turn-on-and-Go Hunting Programs: Coin, Coin and Jewelry, Salt Beach, Relic, Prospecting, Deep Silver, High Trash, Hi-Pro, Mixed Mode Pro, and Meteorite.
3 Optimized Hunting Frequencies: 22.5 kHz for gold, 2.5 kHz for silver, or 7.5 kHz for general use:
Hunt simultaneously in all 3 for the best target ID, or use a single frequency for prospecting, relic hunting or on the beach.
Live Controls for Real-Time Adjustments: on-the-fly adjusts from the "dashboard-like" Live Controls on the bottom of display
Six-Block Menu: Discrimination, Sensitivity, Audio and Ground Balance tweaks, plus some new adjusts
Spectra V3-to-Spectra V3 Wireless Program Transfer to share programs wirelessly with other Spectra V3's
10"DD Search Coil
Adjustable Backlight: 20 different intensity levels.
Owner Registration: embed your name and contact information with a special password.
Selectable Ground Filters: 8 different ground filtering levels from 5 Hz Band through 12.5 Hz to suit the ground minerals and your search coil sweep preferences.
Recovery Delay: 200 different signal processing speeds to choose from matching sweep speed and search conditions
3 x 3 Target I.D. System checks targets with 3 different target screens you activate with the trigger. All-new SpectraGraph, Pinpoint, and Analyze screens.
Color-Keyed Disc Pattern: Red = Rejected, Green = Accepted.
Dozens of Expert Menu Options
NIMH Rechargeable Battery System
Maybe just Slightly Better than XLT Ergonomically
Sergei from Upstate NY in Albany, New York USA -

I had a chance to see the White's Spectra V3 in action during metal detecting outing at the muddy farm field. My friend, the owner of Spectra V3, offered me to try it. I wanted to do so but had not read V3's instruction manual before our hunt and, therefore, would not be able to operate the detector with the full knowledge of what I would be doing.
Instead I decided to conduct an experiment with a different approach: I would be metal detecting with White's XLT, which I know very well, side by side with my friend, and we would compare the number of finds at the end of our hunt.
I used the White's XLT for seven years back in the 1990s, and now I programmed it with settings I always used. My friend had already used the Spectra V3 for a year, and he also had a few years of prior experience with XLT.
To make this short story long, both of us were surprised by the results when our hunt was over. I do not know what program settings my friend had on his Spectra V3, but not only we scored even in the number of finds, we also had exactly the same finds: one silver hammered coin, five copper coins, one pectoral crucifix and a bronze signet ring! And the targets were recovered from the same depths. The Spectra V3's performance did not seem any better than the XLT's performance. That is why I'm giving "4 stars" to Spectra V3.
Mar 06, 2010
10 people found Sergei from Upstate NY's review helpful.
Picking a Detector
Tom in Vancouver WA. -

I wondered which detector I should get: a V3 or an E-Trac. So I got both, and they both have great features. The V3's colored display is great. V3 is very accurate, it also has great depht. The E-Trac's design is very impesive. The lower shaft is made of carbonfiber, and the search coil is designed better with the coil wire going through the shaft. I like using my v3 the most because the scope is so easy to read and it gives me lots of infromation before I dig. I like my E-Trac too as it has different tones depending on the metal. But if I could only keep one, it would be my V3. It just seems like when I go detecting, V3 is the one I grab. I have friends that swear by their e-Trac, but it's not "user freindly." I have metal detected for 15 years and have 3 detectors.
Mar 03, 2010
16 people found Tom's review helpful.
My First Detector
James "Randy" Gentry in Simi Valley, Ca. USA -

5 stars might be a high number seeing as this is my first machine. I have used it 12 times now in a little over 30 days. It took 3-4 outings to understand what the machine was telling me. I can't believe how accurate this unit is. I know with 90% accuracy before I dig the target what I'll find. While researching this unit, I found an advertising stating that you could analyze the target by reading the screens better than if you held the target in your hand. I must admit that I wrote that off as hip, but now I'm a believer.
Jan 06, 2010
14 people found James "Randy" Gentry's review helpful.
Pleased with Spectra V3
Nathaniel in Hopewell Junction, NY -

The first two things that impressed me about this detector were the Spectra's rigid construction and the color LCD. So far the display has proved to be very visible under all lighting conditions. The next thing that impressed me was a great number of adjustments which definitely can provide flexibility in tuning the machine to any metal detecting conditions. I'm not sure if I ever explore all the adjustments because I usually hunt with the factory preset programs, and Spectra's presets work great. My last coin find was a large cent which I dug up from the 11" depth at the searched site! I discovered another great thing about Spectra during my hunt in the woods when a heavy rain suddenly hit. Unlike my previous detector, Spectrum XLT, Spectra V3 didn't go berserk in extreme wet conditions. It's pretty well water resistant! Since then I've never had a problem with Spectra getting a little wet. I also have to mention a rechargeable battery pack – it charges surprisingly fast! Oh, I almost forgot about the wireless headphones! Man, this is a truly fantastic invention! I couldn't believe there was no cord getting in the way and restricting my movements! All in all, Spectra V3 gets my 5 stars for sure!
Oct 29, 2009
55 people found Nathaniel's review helpful.