Pro II Gold Cross Reviews, Price and Specifications
Long Range Locator
Retail Price: $1175.00
Number of Reviews: 0
Be the first to review this item
Email to a friend.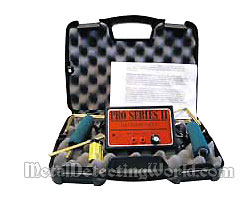 Specifications:
Discrimination of Iron, Etc.
Determines Size of Target
Has Sensitivity Adjust
Lightweight and Compact
Accurately Locates: Gold and Silver Coins, Rings, Jewelry, Dredging Pay Streaks, Nuggets, Treasure
Deluxe Custom ABS Carry Case with Foam inserts
Pro II Target Max transmitter
Pro Series Locating Rods with Rubber grips
2-coiled cables for attaching to transmitter
Ground Probe power booster
9-volt battery
Instructions
1 year warranty
The Gold Cross is a valuable tool for nugget shooting, prospecting, high banking, or dredging.