DetectorPro Pistol Probe Reviews, Price and Specifications
Pulse Hand-Held Pinpointer
Retail Price: $189.00
Number of Reviews: 5
Avg. Rating (4.8 Stars)

Email to a friend.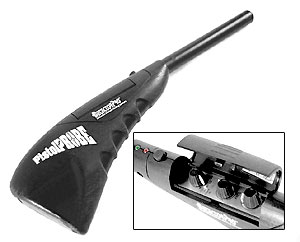 Specifications:
Deep Seeking Circuitry powered by 2 9V Batteries
Momentary On/Off Power Push-button
Switch for Battery Conservation
Protected Control Settings
Two Preset Piezo Audio Volume Levels
Dual LED Visual Indicators
Selectable Silent LED Only Operation
Low Battery Alert
6-1/2 in. Probe Barrel Length
Balanced Comfortable Grip Shape
Belt Mounted Holster
The Best
Sheryl Tack in England UK -

Nothing compares. All the rest are well in its shadow. Only negative for me is that I had to import it. Please make this excellent piece of kit more readily available in the UK

Jun 19, 2011
10 people found Sheryl Tack's review helpful.
My first probe..
John A in California -

When I decided to try a probe for faster recovery, I read everything I could find on the internet. I bought the Detector Pro because of the ability to adjust the threshold. Naturaly my discrimination setting was on high. This probe gets remarkable depth and I am extremely happy with its function. My only negative comments are that it is a little long, and that when it is in its holster some ignorant civilian or police officer might think it is a firearm. My solution to this was to urban camo the unit with yellow fingernail polish. It breaks up the outline and I have not been bothered. Thanks for letting me add my 2cents..
Oct 07, 2009
20 people found John A's review helpful.
Pistol Probe Camo
John in California. -

I bought the pistol probe 2 weeks ago. The first time out, it was very helpfull. My only con is that on my belt at a distance it could be confused with a firearm. I live in California, and the people here are hyper sensitve to such things. I make my living around firearms and know of such things. So, I used some of my daughters' yellow nail polish to break up the black outline. I dont care about what people think of the color, I just dont want to be interupted by an overzelous police officer or some passer by. Hope this helps.
Sep 02, 2009
11 people found John's review helpful.
Great unit...The best out there?
Jason Sevene in Swanzey,NH -

I made the mistake of purchasing the Automax v4 pinpointer with a Garrett Ace 250 a couple of months back and boy was I dying for a better pinpointer! I saw a couple of Youtube videos on this unit and was immediately hooked. I went to Streeter's Electronics in Marlboro NH and picked one up and am very impressed! This thing rocks and you can easily pick out your target from any hole and from distances of up to 6" at least. It fits perfect on my USGI M16 mag pouch grenade holder and is easy to carry around all day. Because it is a pulse unit, I find that I have to adjust the threshold setting somewhat frequently as it interferes with my Minelab Safari FBS, but that is really not a problem for me. The best I've used and would highly recommend! Thanks for reading!
Jul 31, 2009
22 people found Jason Sevene's review helpful.
New DetectorPro Pistol Probe
Tom Kenny in Barre, MA -

You have to see it for yourself. I have used them all, Garret, Whites, Tesoro, Treasure products etc. And none compare as far as depth. I am getting a solid 4" in an air test using a dime. The others don't even come close.
Nov 06, 2008
88 people found Tom Kenny's review helpful.