Fisher F4 Reviews, Price and Specifications
All-Purpose Land Metal Detector
Retail Price: $499.00
Number of Reviews: 2
Avg. Rating (5.0 Stars)

Email to a friend.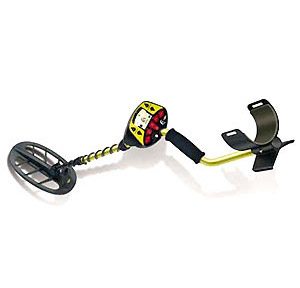 Specifications:
11-Segment digital target identification
4-tone audio feedback
2-digit numeric target value
One-touch notch immediately eliminates unwanted targets
Fisher's deep-seeking autotune mode
One-touch pinpoint
Coin depth indicator
1/4" plug can be used with most headphones
Double D search coil
4" concentric coil included
Requires two 9 volt alkaline batteries
Back Up Detector
Glenn in San Bernardino, Calif -

I started detecting some time in the middle 80's. I retired in 2005 and am still able to detect. I have only had this detector for a couple of months. It is not my primary detector. For the way I use it, I gave it a high rating. My detector came with two coils, the double d and the 5 inch coil for trashy areas. It has an easy ground balance and works well finding coins. The dd coil discriminates well against most pull tabs. I use the back of the dd coil to help eliminate some bottle caps: you get a low tone instead of a high pitch tone. It is a turn-on-and-go detector, light weight, easy to use. I normally use the All Metal mode unless the area is real trashy. A great detector for the money. I like to have a threshold sound present all the time when I detect, not just when I go over an object, that is why I don't use this detector as my primary unit. I want to teach boy scouts in our area to detect, this detector will be perfect for that use.
I have found a lot of good coins with it, some were pretty deep. I would recommend it for the first time detector or for someone who has been around for a while and needs a good light-weight machine for hiking and detecting old trails.
Sep 10, 2011
16 people found Glenn's review helpful.
F4 Review
Mr. N Smith in U.K -

I've been using the f4 now for almost a year, it's really good for trashy sites. Within days of using it, I hit the local Roman temple site. After about 2 hours of metal detecting, I found two silver short cross hammereds and 10 roman bronze coins. Since then, I have revisited every site I had searched with a zero results before and I found a hand full of Roman coins every time. This metal detector picks up coins even when there's iron all around. I use F4 in All Metal mode and find this to be the best way of getting what you're looking for in a trashy area. I've been metal detecting for 20 years, and can say that F4 is a good detector for beginner or pro. Well done, Fisher!
Sep 16, 2009
69 people found Mr. N Smith's review helpful.