Whites MXT-300 Reviews, Price and Specifications
All-Purpose Land Metal Detector
Retail Price: $899.95
Number of Reviews: 6
Avg. Rating (3.8 Stars)

Email to a friend.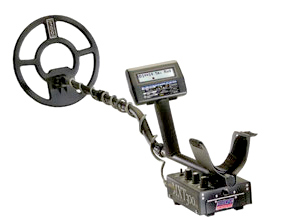 Specifications:
The tough-as-nails baked on powder-coat matte black finish
3 complete separate programs. with separate target responses, display information, and audio frequencies
Coin/Jewelry Mode: Coins and rings in - pull tabs out!
The display offers VDI -95 to +94, target blocks, coin/jewelry/trash target labels, automatic battery check, low battery alert, overload alert, and depth reading
Relic Mode: Specifically identifies buttons, buckles and bullets!
Unique audio response similar to mixed-mode audio, a favorite of professional relic hunters
Prospecting Mode: Patterned after White's famous Goldmaster metal detector
Each operating mode contains optional search and discriminate methods, i.e., Disc Notch, Mixed Mode Audio, VCO and more
Automatic Ground Balance - simple, lightening fast, and accurate. From mountain minerals to salt water
3 easy-adjust controls - GAIN maximizes sensitivity and depth, THRESHOLD allows you to hunt with a slight hum or hear only the sound of detected targets
DUAL control fine tunes discrimination in the Coin and Jewelry and Relic programs
Full range of discrimination - ignore trash and hear all targets
DUAL adjusts the S.A.T. speed- an essential for serious prospecting detectors
Operating frequency - 14 kHz
Drop-in Battery Pack. 40-hour operation from 8 "AA" batteries. (Nicad Rechargeable system available)
Waterproof 300 LTD Super Spider Loop for maximum depth and great success in trash areas, epoxy filler, neutral-buoyancy and low seep resistance
Whites, never again!
Jerry C. in SC -

I paid $650 for a used MXT 300 which appeared to be in like new condition. The machine worked great for a couple of months. Then, when I turned it, on something like Chinese letters appeared on the display, and the depth went to zero. Whites said it was the motherboard, and the repair would be near $200. Could not afford that at the time so I traded the damn thing for a Garrett pro pointer.
Apr 14, 2017
1 people found Jerry C.'s review helpful.
Very good detector
Eric in California Gold country! -

I've been using the Whites MXT 300 for about 4 years, it's done me well. Good discrimination is the key and good depth. I added the DD coil, and it gives a cleaner hit. I read some of the bad reviews and obviously their machines had issues, but it is no reflection on how Good the machine is. I love mine.
Mar 18, 2015
14 people found Eric 's review helpful.
MXT JUNK
Harold Poole in western Pa -

I have a MXT-300 that hasn't worked longer that a few times, repaired once, now warranty is out. It has been sitting in my living room, now when I turn it on, it is erratic and sees all kind of hits everywhere, including the sky. Then I air tested it on washers, and it didn't see them but would see iron in the sky along with foil, etc. It makes no sense. I think these are very unstable machines that go bad just sitting. I have a cheap detector that works all the time. I am very disappointed.
Apr 07, 2013
14 people found Harold Poole's review helpful.
Don't Buy MXT
John Schinbeckler in Camby, Indiana -

I can't tell you how disappointed I am with my "new" MXT, purchased through Kellyco at the beginning of March 2011. I spent weeks researching a dozen different detectors…to ensure all my needs would be met. I decided to go with the MXT because all the reviews and people I spoke with raved about the MXT being a world class machine. When I first got the detector,I had already gone over the owners manual a half dozen times and viewed at least 30 different youtube videos about the MXT. I felt confident in my ability to manipulate the MXT and how to work the various settings for the type of hunting and conditions I would be exposed to. I began by using the factory recommended presets and set out to a local park that dated back to the early 1900's. It did take about 30 minutes to get used to the MXT's tones and before I knew it,I was hitting shallow targets in no time. I was amazed at how many pull-tabs the MXT came across. Even with the toggle set in the forward position (as this is the suggested setting to notch pull-tabs out). After several hours hunting at the recommended presets,I was worried that the MXT was not all it was cracked up to be. I remembered reading a post a few weeks back which talked about setting the discrimination to max and (cherry picking) targets in high trash areas. I decided this would be my best bet, so I turned the discrimination to max and the gain to +1. I did have quite a bit of success at first. I must have pulled about $23 in quarters, dimes, and copper pennies. I was rather pleased with the results, and because the areas I typically hunt were heavily populated parks with lots of trash, I was happy to just pick off the obvious targets. About 2 weeks after my MXT arrived, I began to notice the machine acting very odd. It was unable to lock in on a solid target. The VDI readings were all over the place, and when I tried to pinpoint a target, the machine would give a steady signal (as if the entire area surrounding me had metal all over... no fluctuation in sound). I was hesitant to blame it on the machine, but in my heart I knew something was not right. I called Whites in Oregon and Rodger said to send it in, and he would go through it and fix anything that was even vaguely suspicious. I later learned that a factory authorized service center was located in Illinois which is very close to me residing in Indiana. I did research to see if other customers had satisfactory experiences, and they all seemed to be rather pleased with Tony's work. I boxed the MXT up and sent it out on Friday afternoon. The package was received on Monday and I called Tony on Wednesday to see what the status was. Tony said he had a tough time troubleshooting the problem, but it turned out to be a faulty "phase coil" on the internal board. He said he replaced it and the machine passed his inspection. I received it back later that afternoon. I was pleased at the short turn around time. Tony also said that he had to let the machine run for about an hour to get it to replicate my specific symptoms. At any rate, I was happy that my suspicions were correct and he was able to track down the faulty "phase coil". The next day I set out with my newly repaired "new" MXT. I went to a park around the corner from my house and did some searching. The machine seemed to have difficulty in areas that obviously were filled with lots of trash. It was a reunion pavilion so it was likely filled with bottle caps and foil. In the past (prior to the machine having issues), I had tons of success in similar areas. I had found lots of quarters and even a 2000 SJW dollar. This time, MXT was still having trouble locking in on targets, and the VDI readings were all over the place. I decided that because the area was probably too trashy, and I was using the standard 9.5 coil, I should move to an area that was less contaminated. I moved a few hundred yards to a field and turned the discrimination down a bit. The machine did do better. I found a knife about 2 inches down and about 5 quarters. I even dug a 6 inch hole and buried a quarter I had already found. The MXT did recognize the quarter and my VDI was steady at 85 (a typical quarter). I concluded that my previous experience early that afternoon was that I needed a smaller coil to better separate targets in high trash areas. I ended up ordering a 6 inch excel coil from Kellyco later that evening. The next day I set out to another local park. I turned the machine on and right away found a quarter just under the surface. The MXT was set to "cherry pick mode" with discrimination almost at max, and Gain was at +1. A few minutes into my hunt, I noticed the signal tones and VDI's locking in on solid 24's and even lower 0-4 (iron targets). I was baffled at this because my discrimination was set to notch those VDI's out. I couldn't figure out why I was getting those readings. I would find a good target, but they would only be located just below the surface; nothing greater than 2 inches. Time and time I would turn the discrimination down and back up, and, for a moment, the machine seemed to be working as it should (notching out all the unwanted metals). The machine has always chirped and beeped intermittently when the discrimination was set high, but I though that was just how the machine operated. After another 15 minutes, the machine simply wouldn't lock in on anything specific. I was still getting the discriminated signals that should have been notched out. Finally I found a target with a steady signal and VDI strong at 24 (again... which should have been notched out). I decided to give the machine a light tap, tap, tap... and to my amazement, the 24 VDI was gone. It was notching it out like it should have been doing all along. This peaked my suspicion that the MXT still had an intermittent short or other faulty component. I was able to replicate this several more times. I then decided to dig a 6 inch hole and burry a penny in the vertical position. I was shocked to see that the MXT was not recognizing any VDI signals or steady tones. I even turned the discrimination down to the preset position and still nothing. I dug the penny back up and turned it to a horizontal position... again with the same results! WHAT IS GOING ON?! Something is not right with this machine. I have lost all confidence and fear I will never be able to trust my MXT ever again. It's like when you start dating a really hot chick and everything is going great in the beginning. After a while, you catch her telling you a lie or cheating on you. Sure, you may forgive her, but you always second guess everything she tells you from that point on. That's how I feel now. I can't ever trust this machine again. I will be sending this machine directly to the factory with a copy of this letter. I will also copy and post this to as many user forums as possible. I worked and saved for almost a year to get enough money together to buy this detector. I am truly unsatisfied with this Whites product and will never purchase another Whites product ever again. This is my 2nd Whites detector, so I do have a history with their products. Unbeleavable!!!
Mar 27, 2011
37 people found John Schinbeckler's review helpful.
Awesome Metal Detector
Rhory Adams in CALUMET MICH, -

I own 3 White's metal detecors - Prizm 6T, 5900 DI Pro and MXT 300 - all are good detectors. I find a lot of float copper where I live here in upper Michigan. It's alot of fun for the short summer that we have here. I can't wait to get out and metal detect this spring again.
Feb 13, 2011
7 people found Rhory Adams's review helpful.
MXT 300
Tailgunner in Sacramento,ca -

I bought the MXT 300 for my every day machine as I go out metal detecting every day. It is easy to to use, easy to understand after a couple of times going out with it. if you are looking at this detector make sure you go to Whites web site where you can view their coupons for the free stuff and check out the up-grade deals. As for the detector's capability, if it reads a "Pull Tab", it's a pull tab, I dig up a nickel when it reads "5 Cent" coin - very reliable...
Oct 22, 2008
89 people found Tailgunner's review helpful.