Whites DFX-300 Reviews, Price and Specifications
All-Purpose Land Metal Detector
Retail Price: $1199.95
Number of Reviews: 6
Avg. Rating (3.5 Stars)

Email to a friend.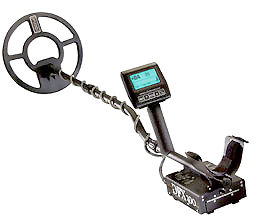 Specifications:
Multiple Frequency Operation: hunt in 3 kHz, 15 kHz, or use both frequencies simultaneously
Best Data displays the most reliable target info
The tough-as-nails baked on powder-coat matte black finish
Pro-designed programs or erase them and create, name and store your own custom programs
High-definition, extended temperature display
DSF Signal Filtration: from 2 filters to 6. Use 2 for quick response in high trash areas or 3, 4, 5, up to 6 for superior depth in mineralized grounds
Sweep Speed Adjust
Hot Rock Rejection. A complete range from total acceptance to total rejection
Big, bold VDI numbers read out alongside target icons, and White's exclusive Signagraph
9 Turn-on-and-Go! Programs - ready to hunt right out of the box
Completely automatic, professionally engineered for high performance
10 Basic Adjustments and 34 Pro Options
Display size is 2 7/8" x 1 5/8"
Automatic Ground Balance with AutoTrac: tracks and adjusts to changing grounds as you hunt
Waterproof 300 LTD Super Spider Loop for maximum depth and great sucess in trash areas, epoxy filler, neutral-buoyancy and low seep resistance
Slide-in Nicad Battery System. Up to 15 hours of power-packed hunting on a single charge
It Works For Me
John Aaron in greensburg pa -

I have a dfx-300 and it works for me. It does go deep put I have never found a coin over 3 inch deep. I found a 1818 penny it was just 2 inch deep. I found an old horse shoe 22 inchs down, a beer can 24 inchs deep, a small round bead (it looked like siver but it was melted aluminum) about 23 inchs deep. I found a 1944 silver quarter with 6 weat pennys; the detector said "dime-penny". I found a silver dime that gave out the broken-up signal. I found a 1944 quarter and a 1942 dime that had a nail in the same hole. I have had this detector for two years and I got a lot of miles out of it so far. It seems just like my old White I got in 1974. If I get a hit I dig. This is a good all around metal detector for me, but I still like my old Whites metal detector for sure.
Aug 05, 2011
14 people found John Aaron's review helpful.
awesome!
Gary uk in united kingdom. -

Super deep with the new super 12 coil. Will give 10 inches depth on coins. Basically a dfx with a big coil and sticker on the box that says dfx 300.
A match for any minelab for sure.
Sep 19, 2010
16 people found Gary uk's review helpful.
DFX300 is Accurate
SKIP HILL in Southern GA. USA -

I find that the DFX 300 is VERY accurate in its findings, although I'm stll learning & getting used to my machine, I do recomend it.
Apr 29, 2010
7 people found SKIP HILL's review helpful.
Too much money to too little performance!
Kenny Graham in Somewhere California USA -

This is machine doesn't have the depth of many so called lesser machines.
Here are the White's greatest current machines!
The M6:
Great ground tracking exceptional depth. Turn and go simple operation! That's what you want, right? To go out and locate stuff? Also is an unsung nugget finder. PS. Great Beach Machine!
The MXT:
Same circuit for ground tracking. 3 modes of operation...ok cool. M6 goes deeper.
The GMT:
Beats many PI machines in soil littered with iron. Fantastic nugget shooter & can track black sand to locate pay streaks for your dry washer! Amazing machine.
I've owned many and I regularly use the M6 & GMT. Get the M6 and you'll kick butt on your DFX buddies. I have a background in electronics... and have taken these machines apart, and am in the process of building perfectly tuned coils for them. I know what I'm talking about.
I hate hype!
I believe Whites to be the best out there, but not every design is a hit.
Apr 18, 2010
18 people found Kenny Graham's review helpful.
Not a Ripoff
Hugo in NJ -

Don't take that guy's word for it. Do your own research.
Mar 17, 2010
11 people found Hugo's review helpful.
Rip Off
Thomas in CHICAGO IL -

Do not buy. Go for the MXT instead and save yourself some money.
Jan 31, 2010
12 people found Thomas's review helpful.