Gold Genie Spiral Wheels Panners Reviews, Price and Specifications
Gold Extractor
Retail Price: $395.00
Number of Reviews: 6
Avg. Rating (3.5 Stars)

Email to a friend.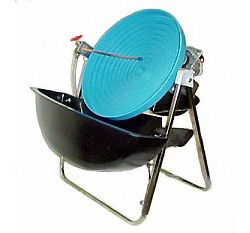 Specifications:
Gold Genie manufactures three different quality spiral gold wheels which have a quality 18 inch blue spiral pan for easy observation of both gold and black sand with a limited 5 year warranty.
The deep cut spirals with sharp edges allows the system to work wet or dry.Gold Genie represents The State of The Art in gold separation.
Consistently and effectively recovers 95% of the gold in concentrates down to 500 mesh. It allows you to process up to 100 lbs. of black magnetic sands in an hour.
Exclusive patented "Poly G-2 Bowl" with double angle progressive riffles. The "Poly G-2 Bowl" has superior one-piece design - no inserts or seams to trap valuable gold particles.
Gold Genie is portable. It only weighs 25 lbs., sets up in a few minutes, and even fits in the trunk of a compact car. You don't need to be near a continuous water source because Gold Genie can be completely self contained with only 3 gallons of water which in recycles. Gold Genie efficiently runs off a 12 volt car battery continuously for approximately 6-8 hours.
Easy to Operate: Adjusting water flow and wheel angle is a snap. Gold Genie is super easy for beginners.
Gold Genie manufactures three different quality spiral gold wheels. All three are designed to recirculate water with a 12 volt pump which is provided.
The controls for both the volume of water on the spray bar and the critical angle of the pan are designed to be easily and accurately adjusted.
The heavy duty 12 volt dc motor has a 2 speed switching system. The low speed is about 15 rpms and the high speed is about 22 rpms. The switch allows high speed, low speed and center off. A separate switch is provided for the 12 volt dc water pump so the units can operate with or without water. The motor and pump have a total current draw of less than 4 amps.
The gold and other values are collected on the back side of the pan in a high capacity 10 1/2 inch gold pan. The fitting in the center of the pan that the gold travels through is made of high quality stainless steel so that the unites can be used for amalgamation. The frames are all made from anodized steel for years of attractive service.
A full one year warranty.
Replaced 20 plus year old genie!
GAT in Oregon -

I bought a Gold Genie in the mid/late 80's and used it hard. Never had a problem, and it worked great. I just received my new MINER model and couldn't be happier! The new stand is awesome and better for working with it in the field. Great construction of the stand. The motor was a bit loud so I e-mailed and called the factory and asked about it. They were great! I got immediate response on e-mail but called them before I read it or knew I had a reply. They told me if I was unhappy they would exchange for a new one. After running the motor a bit the sound went away so it must have been just some dried grease that needed to spread back out inside the housing. To hear my satisfaction was the key. A great product, a great price, with great service.
Sep 11, 2012

Old Gold Genie
Golddiggerjoe in oregon -

I purchased a used gold genie at a yard sale for $40. What a deal! I obviously didn't know that they had the top model. I could use a new spray bar. The old one is pvc painted gold and haphazardly drilled. It works great. A new water bar is smaller which makes it easier to feed. Next I need the feeder, but I don't think I'll get lucky and find one at a yard sale.
Feb 26, 2011

Worth the money
Bob G. in Pahrump, NV -

The gold genie I got from goldfeverprospecting worked perfectly right out of the box. I had to tweak a few settings and definitely had to classify my material but it works really well. Saved me a lot of time and back pain for sure. I found the desert fox machine to be too small and slow - the larger gold genie works much better.
Sep 21, 2010

Me Too
Jeff in Boise ,Idaho -

I also purchased a Gold Genie Pan from Goldfever with the same results: what a ripoff this really is! A bad product and a poor company to deal with. I will not be buying any more gold genie products until ther qualty control improves and they stand behind there products. I'm another unhappy customer. Like the other review says: "look before you buy!!!"
Apr 20, 2010

WOW!!!!
Rick in Richland,WA -

I ordered a Gold Genie spiral pan from Goldfever prospecting and recieved a defective pan with cracks and deep goughes in the spirals. After I complained about the defects, the seller said that "Gold Genie said there was no problem without inspecting the pan, it will catch black sands and gold together in the gouges instead of seperating them." And they said, "they will not replace my spiral pan." That is extremely bad customer service and a very bad product. If you are going to purchase one, make sure that you look at it before you purchase it. They do not stand behind their products. I mean JUNK!!!
Apr 14, 2010

I Love It
Jaimie in Gold Hill Oregon -

I bought a Gold Genie after looking at several of the smaller cheaper wheels that come in a nice little box, and the Gold Genie wheels are built so much better. This is the first gold wheel I have owned, and it only took me about 5 minutes to figure out how to use it. They really are a snap to set up and takes all the work out of panning. I am very pleased with my purchase and would recommend this to any one that produces a lot of concentrates from dredging. The fine gold recovery is amazing.
Mar 26, 2009