White's Prizm III Reviews, Price and Specifications
All-Purpose Land Metal Detector
Retail Price: $ 299.95
Number of Reviews: 5
Avg. Rating (4.0 Stars)

Email to a friend.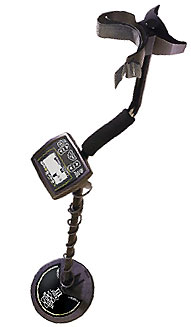 Specifications:
Depth Reading
Target I.D.
5-Range Discrimination
Adjustable Sensitivity
PinPoint/All-Metal Mode
8-inch waterproof search coil
Rugged, water resistant control box
Weight: 2.5 pounds
Low Battery Alert
Sensitvity
Old Virginia in RVA -

I had the same problems with the sensitivity. Cut it back some. High iron soil will make the sensitivity go wild. Cut it back till there is little up and down sounds. All soils are different. In Virginia we have it all. Mountains to sand, and you have to adjust the sensitivity. You might lose some depth but not that much.
Mar 13, 2015
4 people found Old Virginia's review helpful.
White's Prizm III works for me sometimes too good.
Jt from historic church hill in Richmond, Va in Richmond, Va -

This detector, like most instruments, has a learning curve. With this, it is so sensitive for use in perfect soil conditions that in less than perfect soil (mineralized), you must reduce the sensitivety setting or you will be wasting your time. Just fight the urge thinking max sensitivity gives max deph, and reduce it. And you with faith will be finding all sorts of old stuff. I recently found a hard times token dated around 1837 or so. I have found pennys so deep it surprised me with very little sensitivity. For this detector's superior depth, I wait till after a good rain so it's easier to dig deeper. This is an excellent machine ang gets better the more I use it. Different areas = different sens.
Oct 27, 2011
19 people found Jt from historic church hill in Richmond, Va's review helpful.
Hey Jay S, put in new batteries
Rick M in (Plymouth, MA USA) -

One time I put one battery incorrectly and the other I messed up and put in backwards, and it did just as your describing, Jay S. Once I figured that out, it was right as rain. Same day I found a 925 silver Tiffany's "Please return to Tiffany's New York." My first silver. Funny thing is that my wife's name is Tiffani! So either you got two junk detectors, or your having battery issues, or someone's sabotaged your detectors. GRRR... Ive rarely had any issues in my 2 years with this detector.
May 13, 2010
6 people found Rick M's review helpful.
This is a Toy
Pat in Arizona -

As the other review implies, the target indicator bounces around constanly, making it hard to determine what you are digging. Dimes show up as either pull tabs or pennies. After having used this detector for about 5 hours, I am ready to put it on Ebay with no reserve. I was hunting with my brother, who was using a cheapo $30.00 detector and he was having better sucess finding things than I was. I have owned several White Brand Detectors over the past 20 years and all I can say is the company is trying make a quick profit on Junk. Don't waste your money.
Feb 28, 2009
26 people found Pat's review helpful.
No More Prizms for Me
Jay. S in El Paso TX. -

This was my second White's Prizm series detector. The first was stolen from me. The first one was a Prizm 2, and after about six months of use, it would not turn off, and the target indicator would bounce around constanly. I currently have Prizm 3 and do not use it since this one also has a constantly moving and beeping target indicator. No matter where you are, it beeps, and the target and depth indicator constantly move, it's frustrating to say the least.
Feb 12, 2009
33 people found Jay. S's review helpful.