Backpack Gold Dredge Reviews, Price and Specifications
Gold Prospecting Motor-Powered Device
Retail Price: $776.00
Number of Reviews: 1
Avg. Rating (5.0 Stars)

Email to a friend.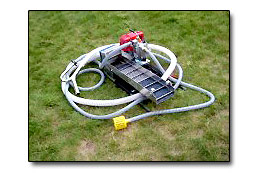 Specifications:
Powered with a four cycle 1.5 Honda
Sluice w/header- 6.5" x 32"
Suction hose: 10' of 1-1/2"
12' of pressure line and intake with screen
Frame included, mounts on inner tube (not included)
Weighs 35lbs
You can pack into the backcountry with this lightweight powerhouse, ideal for sampling or cleaning out crevices.
Runs Flawlessly!
Benjamin Goza in Colfax, CA USA -

The 1 1/2" Honda machine runs flawlessly, and a well trained dredge operator would love to add this to his arsenal of gold recovery devices. Mind you proper placement of the box will achieve best results all ways. If you take your time and think picking cracks, it's great. Moving gravel is not its mission in life although I have been most impressed when it's needed for that. As usual the Honda runs the best.
All those places you couldn't get that bigger dredge in, stream too small, it works in mud puddles, 35lbs and turn key, very nice.
I can't find this model anymore, maybe it's just me. Similar models are $1200.00 now.
Oct 05, 2013