2004PJ 2 Reviews, Price and Specifications
Gold Prospecting Motorized Device
Retail Price: $950.00
Number of Reviews: 0
Be the first to review this item
Email to a friend.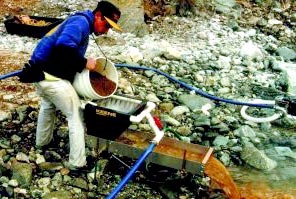 Specifications:
Engine and Pump: P90G, 2 hp
Fuel consumption: 5 hours per gallon
Suction hose: SH2 2"x10
Power Sluice Hopper
Dredge capacity: Up to 1.5 yards per hour
Flotation: 43"x28"x8"
Power Sluice Frame legs
Sluice box: 10"x36"
Power jet: 2"x1-1/4"
Pressure hose
Suction nozzle: 2"x1 1/4"
Power Sluice: 1-1/4"x25"
Weight (assembled): 49 lbs
This line of high powered backpack dredges are equipped with a super lightweight engine and pump combination, aluminum frame and inflatable or marlex pontoons. This dependable engine and pump (P-90G) is powered by a heavy-duty Tecumseh 2-hp, 2 cycle engine weighing only 9 1/2 lbs. It produces an unbelievable 90 gallons per minute and head pressure up to a 132 feet.
The P90 all aluminum pump is equipped with a handle for easy carrying and starting. The sluice box has been engineered for fine gold recovery and easy clean up. The inflatable pontoons may be rolled up into a small package for storage and transporting.
The Model 2004 comes equipped with a power jet or optional suction nozzle. The power jet is ideal for most conditions, providing powerful suction power. For extremely shallow water conditions, a suction nozzle is recommend.