4 Mesh Classifying Sieve Reviews, Price and Specifications
Gold Panning Accessory
Retail Price: $24.00
Number of Reviews: 0
Be the first to review this item
Email to a friend.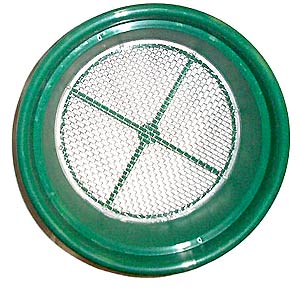 Features:
1/4 inch Classifying Sieve saves time and improve your recovery.
This sieve is used for sizing material down before processing through a sluice box or gold pan.
Stack various mesh grades together for multi-tiered classification.
Conveniently fits over the top of most 5-gallon buckets and constructed of high-impact plastic and stainless steel mesh.