Gravity Trap Gold Pan Kit Reviews, Price and Specifications
Retail Price: $29.95
Number of Reviews: 1
Avg. Rating (5.0 Stars)

Email to a friend.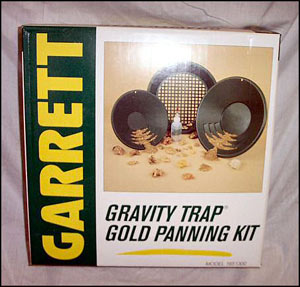 Kit Includes:
10" and 14" gold pans
one Classifier
one Gold Guzzler
Tweezers
two gold vials
the book Find an Ounce of Gold a Day by Charles Garrett
Garrett Gravity Trap Pans
Lord Quake in shenandoah iowa -

The 10 inch piggy back gold pan offers the 90 degree riffle design that was patented back in the 1970's. It is a true time tested gold pan and offers four 1/4" riffles molded into the side. They do not clog up or slosh out gold from the pan even in speed panning. The prospector 14 inch gravity trap garrett gold pan in this kit is also the time tested 90 degree riffle gravity trap system. It is true to retain a lot of gold in dry or wet conditions. The back sides of the pans are textured to allow you to pan out and seperate the gold from black sand. These pans are the top notch style pans to have many clones have popped up over the years but they are not the true gravity trap garrett gold pans. I don't own any other pan then the garrett gravity trap pans that truly are superior to other gold pans.
Sep 27, 2008