Gold Buddy Reviews, Price and Specifications
Automatic Gold Panner
Retail Price: $299.95
Number of Reviews: 0
Be the first to review this item
Email to a friend.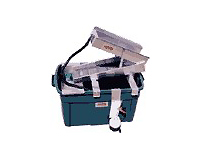 Specifications:
Weighs 21 pounds
Closes to only 17" x 27" x 13"
Powered by 12 volt DC Battery (not included)
This versatile little mini high banker lets you see your gold instantly. It's the perfect self contained, go anywhere Mini-Highbanker that's a snap to use. A) Take the tote/reservoir with everything inside to your site. B) Open case, set up unit in 5 minutes and that's it.
All you need to do now is add water and a small 12 volt batter (not included) and you're off and running. No stream or running water? No problem, bring you own water and you will be high banking in no time. The reservoir holds up to 12 gallons of water which is constantly re-circulated so you don't have to keep adding water. It's fun and very rewarding to find your own gold, just set the unit up, start the 12 volt motor and shovel in your pay dirt.