Pro Forward 12 Reviews, Price and Specifications
Beach Combing Sand Scoop
Retail Price: $39.95
Number of Reviews: 0
Be the first to review this item
Email to a friend.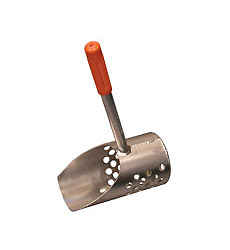 Specifications:
All aluminum made and welded
Size: 5" diameter x 9" long
12" Handle length
5/8" diameter holes
Weight 1.7 lbs
It is designed for quick recovery and fast purging of sand and light gravel. The longer bill design will pick up more sand while scooping.
The handle design is of a straight handle type that is welded at a comfortable grip angle so you can get more power and leverage when scooping. Easy to use scoop. Cuts through sand and dirt. Also, great to use in any beach type competition hunt.