White's Surfmaster PI Pro Reviews, Price and Specifications
Underwater/Surf/Beach Pulse Induction (PI) Metal Detector
Retail Price: $699.95
Number of Reviews: 1
Avg. Rating (5.0 Stars)

Email to a friend.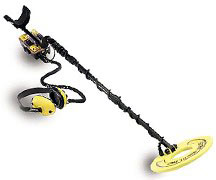 Specifications:
Pulse Induction detection
Enhanced sensitivity to gold
Gain control adjusts for any particular beach conditions
Quick Target Recovery (you hear good targets even mixed in with junk)
Tuner Control adjusts the threshold tone and checks battery strength
Automatic Ground Rejection
Completely waterproof to 100 feet
Power Supply: 8 "AA" penlight batteries for up to 25 hrs of hunting
Surfmaster PI Pro Review
Warren in Texas -

I have used the Surfmaster PI Pro for a few years now on the Texas coast. It's a good detector, easy to use, long battery life. It gives a double beep on nails. The more I use it, the more I like it. The headphones could use a longer cord, but I learned to live with it. I have replaced the o-ring once, probably didn't even need to, and have never had to send the unit in for repairs.
Jun 25, 2015
22 people found Warren's review helpful.