Koss Model UR-30 Headphones Reviews, Price and Specifications
Headphones for Treasure Hunting
Retail Price: $59.95
Number of Reviews: 7
Avg. Rating (4.0 Stars)

Email to a friend.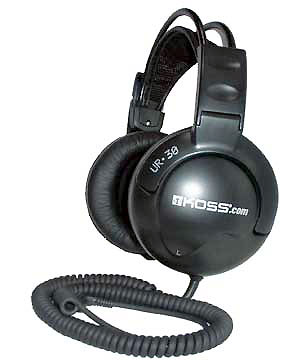 Specifications:
Frequency Response: 18-20,000 Hz
Impedance: 100 ohms
Weight: 12 oz.
Sensitivity: 101 dBSPL/1mW
Distortion: <0.2%
High Fidelity Stereophone utilizes an anisotropic magnet and 1.4 mil mylar element for deep bass and tremble clarity
Closed, leatherette ear cushion creates a seal around the ear for outstanding bass performance and isolation
Built for maximum durability
Collapsible design allows for maximum portability, easy storage, and protection
Straight, single entry 8 foot cord for home and portable use
Includes 1/8" and 1/4" stereo plugs for home and portable use
Life-Time Warranty
The Koss headphones have been custom built for Minelab. These excellent headphones give you a crisp clear signal, lovely padded muffs that eliminate outside noise and are very comfortable to wear all day long. Supplied with a curly cord for safe flexible length.
Not Man Enough
Peter in Brighton Sussex UK -

When run with Minelab FBS or BBS, their sound quality is great. That's why Koss was included with Minelab machines.
But they are not robust enough for metal detecting. IMO, shame as the audio quality is better than anything else I've used.
Jan 20, 2017

Koss vs Grey Ghost ndt
Barry Thompson in north wales,u.k. -

Having used koss UR-30's with my Sovereign GT for 4 years now and reading all the hype about Grey Ghost ndt's, I decided to invest in a pair and keep the Koss as backup phones.
After plugging in my superdooper new phones I couldn't believe how crap they were! Even at full volume, they were nowhere near as good compaired to the Koss.
Ok, they don't have a volume control and can be loose on your bonce, but soundwise there's no comparison. Koss UR-30's anytime.
Mar 30, 2015

Perfect headphones
Marcus in Europe -

The best headphones that I ever used in my 22-year hunting career.
Mar 04, 2015

Not Very Good
George in South Carolina -

I purchased a pair of the Koss UR-30 headphones to be used as a backup pair. Found that the sound reproduction was poor at best and the fit was lousy. I disliked them enough that I gave them away to an individual that did not have headphones. Minelab is cheating their customers by providing headphones of this quality to the consumer. If this is the best that Koss can do then I certainly will never be in the market for a pair of their headphones.

Apr 06, 2014

Koss UR30 Headphones
Gary in Ontario, Oregon -

After trying the Sun Ray Pro and another set of headphones, I've returned to the Koss UR30. The Sun Ray fits snugger, but does not have the volume my older ears require. At about 100 ohms, the Koss headphones seemed to match my Minelab GP 3000 better, also. Minelab recommends the Koss, so the impedance matching must be optimum.
I'm sure there is another expensive set of headphones out there, such as Bose, that will enhance those faint signals smaller nuggets present and also block out extraneous noises. But how far and how much money should one spend on our hobby. I would like to see Minelab and other detector makers research the full headphone market and give reviews on the best for us to consider.
For me and others whose hearing has degraded, headphones are extremely important for finding smaller gold nuggets.
Jul 08, 2012

Great for Professional Treasure Hunting
Sergei from UpstateNY in Albany, NY, USA -

I'm writing my review in response to a negative review placed below because I feel that these headphones deserve to be defended against such a strong negative claim. However, one should remember that there are no headphones which could satisfy everyone pursuing various goals in many different types of metal detecting activities.
I have used the Koss UR-30 headphones excessively for six years and had no problem with their performance. In fact I'm still using the same pair, and these headphones' durability surprises me.
Now I will go over each item mentioned in the previous review:
1) "cords too short" - With my height of 6', I personally have never had a problem with that. The cord is long enough to let me put my detector down on the ground and turn myself at 90 degrees each time while cutting a side of a square plug of dirt, totally three or sometimes all four sides.
2) "too much bass" - this can be easily corrected by the Tone settings ("Tone ID Variability" and "Tone ID Limits" on the Minelab E-Trac detector for which these headphones were designed). A few times, my detecting buddies with different metal detectors borrowed my second pair of the Koss UR-30 headphones for a day, and everyone loved them for their clear sound.
3) "Not very sensitive to the intricate sounds of detecting" - I would agree with this statement only in case of Beach Detecting when one needs to know exactly how many diamonds are set on the gold ring buried in sand.
I mostly treasure hunt at the sites of medieval villages and with these headphones can easily determine the size of an iron nail buried underground, or whether it has a wrought rose head or not. I don't think I need more intricity in sounds of targets to recover valuable coins and artefacts. Besides, I dig all non-ferrous targets at the medieval sites since they don't contain any modern junk. For that, I could simply hunt without Tone ID but still hear the targets' "details". These headphones are great for professional treasure hunting!
May 17, 2011

Not made for metal detecting
Swinginsouthjersey in youtube -

These are the stock Minelab headphones, but I think Minelab does their great machines an injustice by coupling these phones to their detectors.
1) cords too short
2) too much bass
3) not very sensitive to the intricate sounds of detecting.
They sound great on low conductors (low tones) but terrible on short signals, faint signals & high conductors (High tones).
May 16, 2011