Nugget Buster NDT Headphones Reviews, Price and Specifications
Headphones for Gold Prospecting
Retail Price: $140.00
Number of Reviews: 1
Avg. Rating (5.0 Stars)

Email to a friend.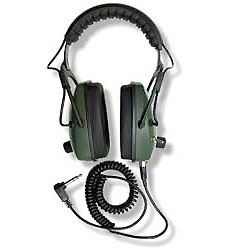 Specifications:
High-quality locking connector system
Dual rotary volume control with "stay put" segmented "click" positioning
Selector switch for metal detector compatibility with all single-output metal detectors without adapters
Heavy-duty earmuff-to-earmuff connection cable
Heavy-duty coil cable with your choice of two 1/4" or two 1/8" stereo connectors, or one of each size
Compact carry and storage foldable design
Less reflective muff color
Heavy-duty polymer muffs with full-ear surround, soft comfortable cushions
Adjustable padded headband... no screws, no wire frame, no rust
Warranty: Lifetime
Based on the specifications of demanding professional electronic prospectors and gold nugget hunters. They are similar to the Gray Ghost NDT but without any limiter for wide-open sound.
Quality Build & Quality Sound
DOGMAN in United Kingdom -

I have used these in typical British weather conditions of wind, rain, snow (and a little sunshine), and found them not to leak or deteriorate. The build quality is excellent combined with a tonal quality which produces a soft sound whilst also being responsive to deep targets. These are typical of the Detector Pro line of headphones, and I look forward to receiving another of their products - the Black Widows. Worth the investment.
Apr 24, 2009