Original Gray Ghost Headphones Reviews, Price and Specifications
Headphones for Metal Detecting
Retail Price: $99.00
Number of Reviews: 3
Avg. Rating (4.0 Stars)

Email to a friend.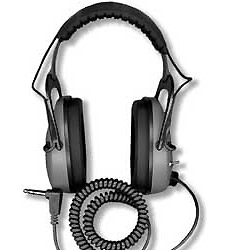 Specifications:
Single rotary volume control with "stay put" segmented "click" positioning
Selector switch for metal detector compatibility with all single-output metal detectors without adapters
Heavy-duty muff-to-muff connection cable
Heavy-duty coiled cord with a special three conductor 1/4", 90 degree angle stereo connector
Heavy-duty polymer muffs with full-ear surround, soft comfortable cushions
Compact carry and storage foldable design
Adjustable padded headband... no screws, no wire frame, no rust
Warranty: Lifetime
Disappointed
Shane in La, U.S.A -

What's all the hype? I paid 105 bucks, and these things don't sound anywhere CLOSE to the cheap set I was using before. I am really wondering if I got some aftermarket crap! Sounds like a signal going through a tin can.
Jan 07, 2012

WOW!!!
Wesley Cullor in Nothern Missouri -

I've allways had a hard time hearing certain tones from my metal detector. I got a pair of the original Gray Ghost phones and NOW I DO NOT have any trouble knowing what my machine is telling me. Buy a pair and you'll say WOW !
Jan 16, 2010

Love them!
Canada in Not Submitted -

I wouldn't trade these headphones for anything - best money I ever spent! Definately worth the extra money to get the quality, great fit, and more defined sound. Highly recommended!
Apr 13, 2008