Ultimate Gray Ghost Headphones Reviews, Price and Specifications
Headphones for Metal Detecting
Retail Price: $130.00
Number of Reviews: 3
Avg. Rating (4.7 Stars)

Email to a friend.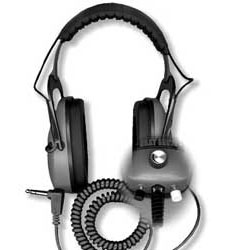 Specifications:
Single rotary volume control with "stay put" segmented "click" positioning
Push-button selector switch for metal detector compatibility without adapters
Push-button switch activates limiter
Special low-noise signal limiting circuitry protects your hearing from high volume hits without batteries
Heavy-duty muff-to-muff connection cable
Heavy-duty coiled cord with a special three conductor 1/4", 90 degree angle stereo connector
Industrial grade Nylon 6/6 pigtail strain relief on cord termination
Compact carry and storage foldable design
Heavy-duty polymer muffs with full-ear surround, soft comfortable cushions
Warranty: Lifetime
Simply the Best
RC-Horseman in Quartzsite, AZ -

I now know what I was missing... Gold. These headphones allow me to find the small pickers that my Lobo ST was designed to find. After using a set of headphones of a lower quality for two years, I went over the same spots at Quartzsite this year and found some small nuggets and pickers. Since there was no heavy rain in the summer, it's not likely these moved in. May you find gold at the end of the day!
Jan 01, 2011

The Best for My Explorer XS
Ykw in NH,USA -

Very happy with these headphones. They have a very good audio range of tones, low, medium, high....very real tones and not fake sounding. I never had any use for the one button that keeps sudden loud tones to a minimum....but these are the best for my ears. I have had them for at least five years now and they are still comfortable. The Explorer's Tone ID has many tones to decipher, and the range of these headphones is what it takes to hear the difference between them all.
Jan 18, 2009

Ultimate Gray Ghosts Are Great
NealNoIN in Northern Indiana -

They are big enough not to squeeze part of your ear. They block more sound than any I've used. They are comfortable even when wearing all day. Great sound on lows, mids and highs. Only wish I could turn them up one more notch for my Explorer.
Oct 29, 2008