Sun Ray X-1 Target Probe Reviews, Price and Specifications
Detector-Mounted Probe
Retail Price: $229.00
Number of Reviews: 2
Avg. Rating (5.0 Stars)

Email to a friend.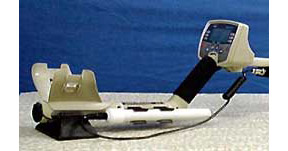 SPECIFICATIONS:
Accurate "Bullseye" pinpointing on coin size targets up to 3" deep in discriminate mode - 2 1/2" in pinpoint mode.
Light weight, waterproof/submersible
9" x 1" diameter probe mounts nicely along the Explorer's battery compartment
Very compact, ultra light switch box mounted on bottom of upper shaft makes for easy switching from coil to probe.
Makes coil changes super fast as coil cable will no longer be inserted into upper shaft.
X-1 gives operator ALL of the same functions as stock coil including accurate visual and audible target ID.
No external buzzers or lights are needed as all targets are heard clearly through your detector headphones.
Full 12 month warranty
The Best
Jason Sevene in Swanzey,NH -

I use the Sunray on my E-Trac and I am just in love with this unit. I basically gives you 2 detectors in one and uses all of the great descrimination that the E-Trac offers. It is not the most sensitive, but sensitivity is not everything as my pistol probe will go after any and all junk in the hole, whereas the Sunray will only go after the good items that the main coil initially would pick up. The pinpoint feature, combined with the main detector also works great. I do not notice a weight issue, and the battery consumption does not seem to be bad as well. This should be a standard acessory to anybody seriously into this hobby. I have not used anything that is better than the Sunray.
Nov 27, 2009

Best Buy
Bill in Michigan -

A terrific pin pointer for the Minelab. The model with my MXT is not anything to write home about, but this pointer has increased my finds by decreasing my search time. Well worth it!
Nov 19, 2009