White's IDX pro Reviews, Price and Specifications
All-Purpose Land Metal Detector
Retail Price: $ 549.95
Number of Reviews: 3
Avg. Rating (4.3 Stars)

Email to a friend.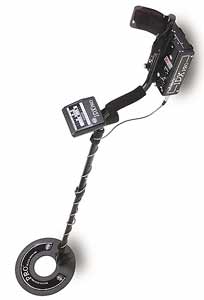 Specifications:
Patented flash-phase "hot circuit" picks up treasures 30% deeper
Automatic Target I.D.
Two Primary Controls: Discriminateand Sensitivity, Preset range
Black Sand Switch
Frequency Adjust Control
Trigger Pinpointing switches to "Zero Disc" for easy pinpointing
3-Piece Rod Set
Silent Search Discrimination
Very Slow Sweep and Quick Recovery
Optional Adjustable Ground Balance
9 1/2" waterproof search coil
Slide -in "AA" battery system for up to 50 hours of hunting
Whites IDX Pro
Jason in uk -

Hi there! I've just bought a Whites IDX Pro. I've also got a Fisher F2. The Whites leaves it in the dust!!! It's an awesome detector: cannot go wrong with it, good price and beats alot of high priced detectors - 30% extra deeper. The 9-1/2" coil is better for deeper targets and seems to be all around better. The ground balance/black sand switch is great to have. Not many metal detectors have it! Trigger Pinpointing switches to "Zero Disc" for easy pinpointing - it's better than the motion pinpoint of the fisher f2! It has Optional Adjustable Ground Balance which I find better. Slide-in "AA" battery system lasts for up to 50 hours of hunting. It is a very good detector, I give it 100%! All you White's guys must be proud - nice one!
Jul 09, 2009
43 people found Jason's review helpful.
Great detector for the price
hotdog47 in Colorado -

I have detected with this detector for about 5 years and the only thing I did not like was that it did not have a depth indicator. Otherwise it was great. Very easy to operate for the beginner. I have found gold rings pendants, silver rings and plenty of coins. I have just bought a DFX-300 about 2 weeks ago, but will keep my IDX Pro as a back up.
Jul 11, 2008
21 people found hotdog47's review helpful.
I like this machine.
Martin in South Bend, IN USA -

Whites IDX Pro performed very well in different soil conditions. I am satisfied with results.
Nov 07, 2007
22 people found Martin's review helpful.