C Scope CS 2M Reviews, Price and Specifications
All-Purpose Land Metal Detector
Retail Price: $459.00 (£229.90)
Number of Reviews: 1
Avg. Rating (5.0 Stars)

Email to a friend.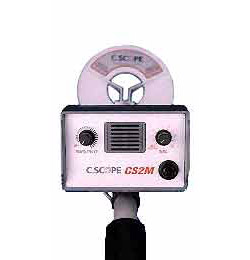 Specifications:
Search coil: SUPERLITE open centre search-head
Detachable control box
MOTION power circuitry
Automatic operation
Full range tone/no tone discrimination
All metal mode
Power source 2 x PP3 9V batteries
Robust, lightweight, professional
Extremely user-friendly
Built-in speaker with headphone socket
Sensitivity control
Fantastic Bargin
Brindal in yorkshire .uk -

I use a Minelab X-Terra 705 and I am very happy with it. My friend threw his spade in the boot of my car and snapped the coil fixing bracket on my detector. While it was off for repair, I bought a CS2M off eBay for £29. And what a gem it has been! My mate has paid for my 705 to be mended, but I still take the CS2M with me anyway. He laughed at first, but he is looking on eBay now because he likes it better than his Fisher. Look on eBay and get one! And you'll be suprised just how good this C Scope is.
Oct 19, 2009
73 people found Brindal's review helpful.