C Scope CS 1220R Reviews, Price and Specifications
All-Purpose Land Metal Detector
Retail Price: $649.00 (£318.99)
Number of Reviews: 1
Avg. Rating (5.0 Stars)

Email to a friend.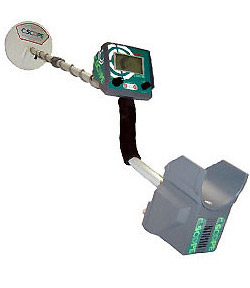 Specifications:
Digitally controlled audio and meter discriminating metal detector
Meter discrimination mode
Large clear view meter
Infinitely variable audio discrimination
New lightweight stem - perfect balance
Moisture and dust protected design features
Headphone and battery recharge sockets
SUPERLITE 8" diameter search head
New 8 x AA cell battery pack
2 position ground control
Variable discrimination
Rapid, push-button mode change
Weight: 3.3Kg (6.6lbs)
Innovatory wide spectrum audio discrimination
Twin channel ground-discriminate modes
Ground adjustable in search mode
LCD target ID and signal strength
Counterbalanced stem with armrest
Adjustable stem length
Headphone socket
Ideal For: Professional treasure hunters, all terrain use
Fantastic depth, discrinination needs improving.
John S MacPherson in UK -

I have owned a 1220R now for just over three years and I must admit that for all its habits, good and bad, I love the machine.
In G/D mode the depth is fantastic. In air 17 inches and in ground 14 inches with a 5p (dime). Who could ask for more. Switch to discrimination and there the fun begins. The same 5p is rejected at anything over 4 inches in all three modes.
Air tests with basic ring pull, silver coin, iron nail, gold ring and copper coin all tested at 6 inches in G/D mode. All above blows your ears off and once you adjust the discrimination setting whilst in D mode, the 1220R will show good or bad. However this is not always true with soil tests. Wet soil and almost all are rejected at over 2 inches deep but on dry soil discrimination works well up to about 5 inches. Deeper than that and everything is rejected. As C-scope say, you will lose some depth in D mode but they don't tell you that you lose over 60%.
Still its depth happily makes up for the poor discrimination. Smallest object found so far is a 3/4 inch copper pin at 11 inches. One day I will find that gold coin I am looking for, I just have to remember to dig every dodgy signal.
Happy hunting folks.
May 19, 2013
14 people found John S MacPherson's review helpful.