Pulse Star II Pro Reviews, Price and Specifications
Deep Seeking Metal Detector
Retail Price: $2,995.00
Number of Reviews: 2
Avg. Rating (5.0 Stars)

Email to a friend.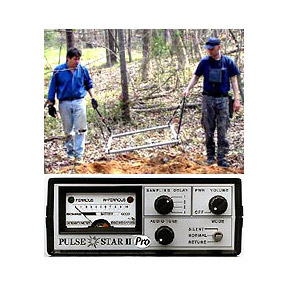 Specifications:
Visual Target Indicator-green light ferrous/red light nonferrous
Audio Target Identification by Tone
Silent Search or Tone Mode
Eliminates Small Objects Automatically
Automatically Eliminates Trash
Large Search coil 40'X40" standard
Audio Tune Knob
Sample Delay Switch
Silent Mode
Retune Mode Automatically Recalls The Previous Preset Calibration.
Battery can be checked
Small targets and highly mineralized soil can be eliminated
The ticking rate can be calibrated in conjunction with the Audio Tune knob.
The Best in Its Class!
Sergei from Upstate NY in Albany, New York USA -

I have used the Pulse Star II Pro many times during the cache hunting outings and I think this deep seeker is the best in its class. It is reliable, simple in use and versatile. Before using PS2, one must learn and understand the PS2's characteristics and its way of detecting the targets in order to design the most effective "scope of action" and carry it out successfully. For more details and operational tips please read my complete review (copy the link and paste it in your browser window): http://metaldetectingworld.com/pulse_star_2pro.shtml
Mar 06, 2010
89 people found Sergei from Upstate NY's review helpful.
Bang For Your Buck
Mike A in Northeast US -

I purchased this detector a year ago, along with the universal search loop. After a lot of design trials and errors, I was able to create a very nice way to put it all together, with structural integrity, and portability being a key. Do not forget....No metal parts! While my design is a secret , let's just say it is much more structurally sound and more portable than those you may have seen made famous by a certain meteorite hunter out there. It is a very good system, and overall I have no complaints other than the repeated sweeps required for the discrimination to work properly. This baby really punches deep! All parts seem to be of high quality, and this has been a very reliable unit thus far. I would recommend this system, depending upon its application.
Jun 13, 2008
207 people found Mike A's review helpful.