Treasure Hunter Vision Pro XJ9 Reviews, Price and Specifications
All-Purpose Land Metal Detector
Retail Price: $599.00
Number of Reviews: 12
Avg. Rating (4.2 Stars)

Email to a friend.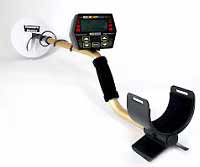 Specifications:
Expert level detector
Selectable for target detection/rejection
Lightweight for ease of use
Z-98 16-bit computer
Programmable sensitivity adjustment
Auto ground balancing
1/4-inch headphone jack
Touch-pad control panel
Target image indication with large LCD
8 distinctive audible tones for different metals
LCD: iron/silver/gold/trash/cab/10 different coins
Auto low voltage indication
Telescopic handle new comfort design
Waterproof 8" coil (Upgraded to the 10" deep search spidercoil $80 value)
Professional treasure hunting detector
Uses 2-9V batteries
5-Year Limited Warranty
A Good Detector
Marco in CHIHUAHUA,MEXICO -

This is a good detector and worth its money.
Dec 16, 2017
0 people found Marco's review helpful.
Good first detector
Rob in nj -

Good first detector. On eBay, you can pick up a metal detector that's inexpensive. It goes very deep and beats out my thousand dollar detector. You won't be sorry. I bought two.

Jan 30, 2013
16 people found Rob 's review helpful.
Awesome Metal Detector
Dustin in New Albany , IN -

Best money I have ever spent on a detector. This thing rocks and works really good. I'm very happy with it.
Dec 02, 2010
10 people found Dustin's review helpful.
Outstanding Мachine
Robert P in Charleston SC -

It has been great. I found it at a pawn shop for 160. As soon as I got it home, I started using it and began finding things around the yard. It is such an easy machine to operate, very self-explanаtory. Even a caveman could use it.
Oct 08, 2010
7 people found Robert P's review helpful.
Had a lot of fun, but it is time to upgrade to 3050
Franky in Los Angeles, Lakers -

You never hear moderate reviews on this thing but actually you can't beat the price for a first timer. Because I had a lot of fun with this thing, I upgraded to the 3050 and, man, what a difference! The $200 3050 machine in some cases worked better than my friend's thousand dollar GTI 2500. Although he didn't want to admit it, he had better luck finding things with the 3050 and even hinted on buying one as a backup. I did my research, and it seems like treasure hunters who pay the big bucks for their MD refuse to believe that one with the lessor price tag can outperform most of the big named ones in the same category. Well that's my story. Good luck!
May 06, 2010
27 people found Franky 's review helpful.
Battery Drain
Steve in usa -

This thing drains batteries fast. If you get one, I hope you like spending money on batteries. I go through 4 9-volts in about a little over an hour. Usually costs me $10 an hour to use it.
Mar 10, 2010
30 people found Steve's review helpful.
SUPER
Tim in AL USA -

Just amazing!
Jan 28, 2010
6 people found Tim's review helpful.
Rubbish
Alex in uk -

With this machine, you can't find any tresure underground because it was not designed for it. So, it is rubbish. I paid 100 pound on ebay for it.
Nov 06, 2009
11 people found Alex's review helpful.