Treasure Hunter Aquivision Pro Reviews, Price and Specifications
Underwater Diving Metal Detector
Retail Price: $795.95
Number of Reviews: 3
Avg. Rating (2.3 Stars)

Email to a friend.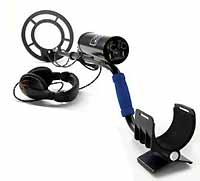 Specifications:
Weight 6lbs
Maximum Submersible Depth: 132 feet
Comes with standard battery pack 6-AA batteries installed (65 hours of operation time)
Submersible Headphones
Can be set to ignore small metal pieces while looking for larger objects
10" deepsearch spidercoil
Audible alarm and visual red LED flash
Aluminum control tube
Descrimination capabilities to tune out trash like pulltabs while searching for valuable treasure
Only the coil is waterproof
Dave in Middlesex, NJ -

Took it to the river and it stopped working when the control box was submerged. That happened both times I tried using it in the water. Sold it for $50, I told the person who bought it the knobs leak. Junk, stay away.
May 22, 2010
5 people found Dave's review helpful.
Terrible!
John Thomas in new zealand -

If you put this detector anywhere in salt water, it becomes unstable, which means it beeps all the time.
Aug 17, 2009
3 people found John Thomas's review helpful.
Awesome For Underwater Search
Kyle Evans in Myrtle Beach, SC -

I took my new Aqua Vision to the beach and used snorkeling in the surf. I have already found a diamond ring...so it has paid for itself on one use!
Oct 11, 2008
4 people found Kyle Evans's review helpful.