Tesoro Sand Shark Reviews, Price and Specifications
Pulse Induction Underwater Metal Detector
Retail Price: $679.00
Number of Reviews: 3
Avg. Rating (3.7 Stars)

Email to a friend.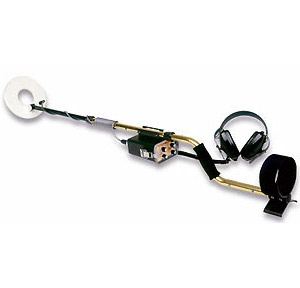 Specifications:
Operating Frequency: 600 pps
Searchcoil Type: Printed Spiral
Searchcoil Size: 8" diameter
Audio Frequency: Approx. 220-450 Hz
Audio Output: Stereo Piezo Headphones
Weight: Less than 4 lbs.
Battery Requirement: Eight AA DC batteries
Battery Life: 10 to 20 hours
Optimum Temp. Range: 30° to 100° F
Optimum Humidity: 0 to 75% R.H.
Operating Modes:
VCO Motion All Metal
Adjustable Audio Frequency All Metal
Maximum Depth Rating: 200 ft.
Lifetime Warranty
Tesoro
Digger in Canada -

To "BlackHat in U.K." [review below]: What year are you finding your facts?! Tesoro has come out with a complete new line of Detectors. I am in Canada and I have FULL Warranty!
Dec 05, 2013
4 people found Digger 's review helpful.
Tesoro loses its way
Blackhat in United Kingdom -

Unfortunately as with most other Tesoro products of today, the company has failed to keep up with modern technology.
I recently took part in a beach test of the leading pulse metal detectors. And most from the cheapest C-Scope to the top of range Whites had all been improved in performance. All except the Sand Shark. It has, in fact, become a worse buy due to the ability to change coils being removed. You now have to make a choice of either a large or small coil at time of purchase.
Other brands of beach/water machines have waterproof connectors. Why can Tesoro no longer fit them?
In terms of depth penetration, the Sand Shark lags a little behind machines like the White's Dual Field and doesn't even warrant consideration if you are sticking to the wet sand where a T.D.I. is far deeper and can even offer a degree of discrimination. The Dual Field machine costs a little more* than the Tesoro and also has a hard wired coil but its dual field design (two coil sizes in one) means you are in effect using both large and small coils at the same time so you have the advantage of maximum depth plus sensitivity to small items like engagement rings.
* But in truth its cheaper as you have two coils in one.

I grade the detector at 3 stars only because of the lifetime warranty in the U.S. In the rest of the world, this warranty does not apply. Other manufacturers offer far better warranties so if outside the U.S., it's only worth two stars.
Tesoro continues to sit on its hands while other companies incorporate new and better features such as adjustable recovery speeds, ground tracking in both discrimination and all metal, sophisticated I.D. displays and twin, triple or multiple frequencies.
A new name, slight tweak and a change of colour scheme no longer cuts it. Solid improvements are needed and we are just not getting them.
Nov 11, 2012
15 people found Blackhat's review helpful.
Tesoro Sand Shark is at Home in the Salt.
Firstbiggestmost in Treasure Coast, Florida, USA -

The Sand Shark is a great beach machine. Its PI circuits make it a pleasure to use where VLF machines fail to perform. It features customizability not found in other PI detectors. You can choose from multiple coils to tailor the machine to your needs and best suit the task at hand. Small coils for the trashy areas and large coils to cover ground quickly for those fresh drops. The Sand Shark has two different search modes, so you can choose what works best for you and you can even change the pitch of the tone to best suit your own hearing or preferences. I have not been able to find a gold ring in my wife's jewelry box that the shark will not pick up on nicely. A 4 gram men's ring air tests at 16 inches easily with the stock 8 inch coil. The lifetime warranty and great customer service are icing on the cake. The only reason I don't give it 5 stars is because it doesn't have a 12 inch or greater coil for the extreme depth fanatics. I rate it at 4 3/4 stars. Happy hunting!
Apr 30, 2010
103 people found Firstbiggestmost's review helpful.