Tesoro Lobo Supertraq Reviews, Price and Specifications
Gold Nugget/Prospecting Metal Detector
Retail Price: $799.00
Number of Reviews: 4
Avg. Rating (4.0 Stars)

Email to a friend.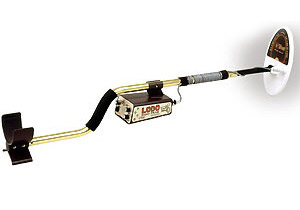 Specifications:
Operating Frequency: 17.8 kHz
Searchcoil Type: Elliptical, widescan
Searchcoil Size: 10" elliptical (length)
Cable Length: Approx. 8'
Audio Frequency: Approx. 330 Hz to 550 Hz
Audio Output": 1-1/2 inch speaker and headphone jack
Headphone Compatibility: 1/4" stereo plug
Weight: 3.5 lbs
Battery Requirement: Eight AA cells
Battery Life: 20 to 30 hours
Optimum Temp. Range: 30° to 100° F
Optimum Humidity: 0 to 75% R.H.
Operating Modes:
All Metal (motion required)
Silent Search Discriminate
All Metal Tuning Mode: Fast Auto Tune
Pinpoint Mode: No-Motion All Metal (no Auto Tune)
Lifetime Warranty
GOLD DETECTOR!!!
Nomadnailer in WV, USA -

I bought my Tesoro Lobo to look for gold in places where gold has been found. And for that, it is an excellent detector. This machine is not for coinshooting or relic hunting - that is a mistake people make when they buy gold detectors for detecting anything but gold. However, the Tesoro Lobo has great programming that allows you do other activities, but a gold detector is for detecting gold!
Feb 10, 2011
23 people found Nomadnailer's review helpful.
Great for Gold
Brad in Southern CA , USA -

The Tesoro Lobo Supertraq is an excellent detector offering exceptional depth targeting on small non-ferrous targets. I have successfully located small gold nuggets in normal and highly mineralized soils in the mountains and deserts of southern California and Arizona. I have used several different brands and types of detectors in the past and I prefer the Tesoro Lobo "Supertraq" to all previous detectors I have owned.
Apr 19, 2010
32 people found Brad's review helpful.
tesoro is a joke
Laden in Tora Bora -

Don't spend money on this junk!
Jul 11, 2009
13 people found Laden's review helpful.
Lobo Supertraq Great Machine
Guest in Australia -

I have had my Supertraq for along time and it has proven to be an excelent gold and coin detector.
It has extremely good ground tracking ability and even works in quite highly iron mineralised ground, it detects very deep in the all metal mode and is fantastic on small gold nuggets.
The Supertraq main function is that of a gold detector and if I was looking for gold in zero to moderatly mineralised ground I would choose this machine over ANY PI detector, it is vastly superior on small and large gold in these conditions. There is a good range of coils available both DD and Concentric.
I feel sure that prospectors searching the Alaskan low mineralised rivers where there is still plenty of nuggets to be found would agree that VLF detectors give better results in those areas than PI machines.
Regards,
Goldfinder.
Apr 18, 2008
220 people found Guest's review helpful.