Tesoro Vaquero Reviews, Price and Specifications
All-Purpose Land Metal Detector
Retail Price: $525.00
Number of Reviews: 2
Avg. Rating (5.0 Stars)

Email to a friend.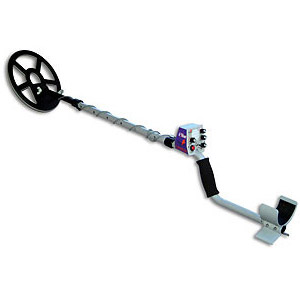 Specifications:
Operating Frequency: 14.3 kHz, 14.5 kHz, 14.7 kHz
Searchcoil Type: Monolithic (Carbon Fiber)
Searchcoil Size: 9" x 8"
Cable Length: Approx. 3'
Audio Frequency: Approx. 293 Hz or VCO
Audio : 1-1/2" speaker and headphone jack
Headphone Compatibility: 1/4" stereo plug
Weight: 2.2 lbs
Battery Requirement: One 9 volt DC (alkaline)
Battery Life: 10 to 20 hours
Optimum Temp. Range: 30° to 100° F
Optimum Humidity: 0 to 75% R.H.
Operating Modes:
Threshold-based All Metal
Silent Search Discriminate
MicroMAX Design
VLF 14 kHz Frequency
One Drop-in 9V Battery
Variable Threshold
3-3/4 Turn External Ground Balance
Ultra-lightweight Design
9x8 Monolithic Coil
3-Piece Knockdown Pole
Lifetime Warranty
Deep Machine for Sure
Brandon Moore in Newry Maine -

Well I have had the Tesoro Vaquero about a month now. Once you get aqainted with the ground balance, you will acheive great depth. I recently tried Vaquero on a fresh water beach and found the backing of a ear ring about 11" deep, and it was the size of a bb (bird shot). I was using the All Metal mode with threshold tone. I'm going back to the old home sites to listen to faint signals and find those rare coins! I will say that if you can't afford the Tejon, this is the next best machine at $420.00. It will run successfully with $1000.00 machines all day long. Once you try manual ground balance, get acustommed to it, you'll never go back to auto again.
May 10, 2009
56 people found Brandon Moore's review helpful.
Great All Around Machine
Trent Nunley in Minot AFB -

Best machine I have owned. I have had most major brand machines and the Vaquero is super lite (2.2 pounds). Goes real deep, only takes one 9 volt battery, which lasts good 15 hours or more, and has a life time warranty. I have hunted right along people using 1000 dollar machines and done just as good as them and, in a lot of cases, better. This detector is easy to ground balance, and you can swing it all day with no problems. The Vaquero is a fantastic machine with a very small learning curve and it has great performance. Love it!
Mar 23, 2008
92 people found Trent Nunley's review helpful.